Our own Adena Andrews -- former swimmer and more recent couch potato -- is training for her first triathlon, to be held March 19 in South Carolina, and is blogging every proud, painful or demoralizing step along the way.
No matter what it may look like in these blog posts, I'm not superwoman. Since I began my triathlon training five weeks ago, I've been wearing the hats of daughter, student, sportswriter, triathlete and friend, and juggling those roles has been daunting. My tri family at GOTRIbal told me this would happen, but I didn't take heed. Every day is a grind. Training feels like a full-time job.
I'm always sleepy, and sometimes I take naps in class (hoping my professor doesn't read this). My mom says she barely hears from me now, because all my free time is spent napping in front of the television.
I told my trainer, Rachel Castna, and nutritionist, Cindy Dallow, about my issues and they said my nutritional priorities are probably whacked out, which could be the reason for my exhaustion. They couldn't be more right.
My body is a high-performance vehicle now, but I'm ashamed to say sometimes I treat it like a go-kart. I continue to eat like a broke college student who doesn't have the time to shop for good food. One week I almost ate my weight in protein bars, and then devoured a slab of beef ribs I believe originated from a brontosaurus. Here is one of my worst eating days in the past five weeks -- behold the damage:
Breakfast: Two donuts, hot chocolate
Snack: Protein bar
Lunch: Leftover Thai pineapple fried rice
Dinner: two boiled eggs
I'm disgusted looking at this list. But it's my reality, and I have to face it.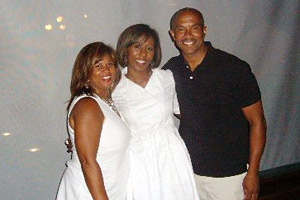 Courtesy of Adena Andrews Adena Andrews has been so tired from training she hasn't even been calling her family much.
I thought Cindy was going to put me under nutrition lockup, but she was forgiving, and explained there are emotions connected to food and that my mental block about accepting healthier eating habits is normal. Even she has bad eating days, and healthy eating is her job. She also told me my training is why I'm twice as hungry as before, and why I'm making poor choices. But if I want to perform at a high level I have to fuel my body properly.
After telling her my struggles -- never going to the supermarket, not having time to make meals, having a monstrous appetite after workouts -- Cindy put together these tips for me:
1. Milk it for all it's worth: I started drinking milk with breakfast and after workouts and surprisingly, it satisfies my appetite. It's important to drink milk to replenish the glycogen storage used during my workouts. With every workout, especially running, there is muscle breakdown. Milk, high in protein and carbohydrates, helps repair any damage.
2. Nifty nachos: After spending four years in Southern California, I never met a plate of nachos I didn't like. I was relieved when Cindy told me nachos I could still be friends. I shouldn't eat the sloppy, Super Bowl Sunday ones, but a quick healthy version is okay. Here is the recipe: use nacho chips (whole grain if you can find them) and rinsed canned black beans (rinsing the beans gets rid of most of the sodium). Sprinkle on some reduced fat cheddar cheese, guacamole, lean ground beef and salsa. Microwave for thirty seconds and bam ... you have a healthy meal to tide you over.
3. Break the fast: Breakfast means "break the fast" after sleeping. Your body is on empty when you wake up, and you should fuel it for the day. Whenever I skip breakfast, I find myself making horrible eating choices the rest of the day. Cindy was actually impressed with my new breakfast of two Bisquick waffles, three strips of turkey bacon and two scrambled eggs. Finally, I did something right.
This week I stumbled upon an old Spanish proverb: "the belly rules the mind."
It certainly rings true, as nutrition has become the fourth and most difficult leg of this triathlon for me. Mental roadblocks make it challenging for me to think of food as fuel and not fun. If I can master the nutrition portion of training, I'll still be wearing five hats on campus and at work, but I'll look and feel better doing it.
P.S. I had a red apple after I finished this post. Go me!