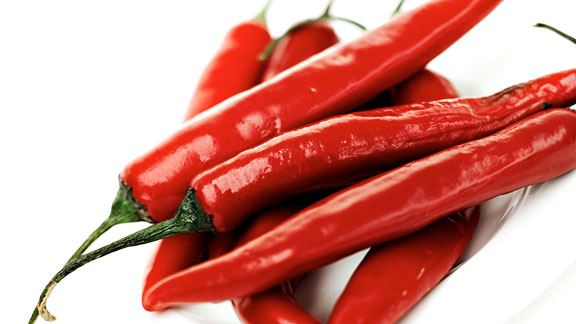 Thinkstock
Back in ancient Rome, the winners of athletic feats like chariot races were crowned with a wreath of bay leaves, a symbol of victory. While the champions probably didn't cook their garlands into a fragrant soup, they were still onto something: Modern-day science reveals that spices are packed with nutrients that can help you become a stronger, healthier competitor.
Case in point: When researchers from the U.S. Department of Agriculture analyzed 27 top culinary spices, they found that most packed more antioxidant power than fruits and vegetables. "A few spoonfuls of seasoning can be the nutrition the nutritional equivalent of an entire salad," says Ingrid Kohlstadt, M.D., M.P.H., an associate at Johns Hopkins School of Public Health and founder of Ingridients.com. While all spices are healthy, there are some that are particularly helpful for athletes. To rack up the biggest benefit, add a dash of the following four powerhouse powders.
1. Chili … to get lean and mean
Serena Williams says she often cooks with chilis. French Open champion Li Na likes most things extra-spicy. And have you even seen what Chicago Bull Carlos Boozer does without hot sauce? Athletes can't seem to get enough of this fiery seasoning, and for good reason. The spice's signature compound, capsaicin, has been shown to protect against ulcers, blood clots and even breast cancer.
What's more, these little peppers may help you get to your fighting weight. Eating chili speeds your metabolism for up to six hours, said Bharat Aggarwal, Ph.D., a professor at M.D. Anderson Cancer Center and author of "Healing Spices." There's an even bigger effect for active people: Research in the Journal of Nutritional Science and Vitaminology showed that exercisers who got a dose of the hot stuff before a workout burned more fat than those who didn't. So if you're looking to trim body fat while maintaining muscle, douse that dish with some hot stuff.
2. Sage … to de-stress and stay sharp
This earthy spice lives up to its wise name. "Sage can sharpen your memory, brighten your mood and refresh your concentration," Aggarwal said. Experts believe the herb can boost levels of acetylcholine, a brain chemical that helps control attention, alertness and recall. According to a study in "Physiology & Behavior," people who took a sage supplement felt calmer and more alert for up to six hours than those who swallowed a placebo pill.
On edge about an upcoming game? Add some sage to a meat marinade, or sprinkle it on toast or apple slices. You may even become a smarter player: British researchers found that students who consumed the woodsy leaf before taking a memory test were faster -- and more accurate -- with their answers.
3. Oregano … to fend off infection
If the only time you see this herb is at the pizza parlor, you're missing out on some serious nutrition. According to a study in the Journal of Agricultural and Food Chemistry, a mere tablespoon of oregano has the same amount of disease-fighting antioxidants as a whole apple. These powerful nutrients, along with other compounds like thymol, give oregano its infection-fighting power. Sciences suggests that its oil can keep viruses, germs and fungi from multiplying in the body.
In fact, researchers from Georgetown University Medical Center discovered that oregano oil prevents yeast from spreading and adhering to tissue, thus warding off those pesky infections that plague athletes. Try adding oregano to soups, meats and casseroles. Olympic swimmer Garrett Weber-Gale blends it with sea salt, paprika, onion, cayenne pepper and other herbs into a spice mix that he sprinkles on a variety of dishes.
4. Turmeric … for pain relief and cancer protection
This spice, which gives curry and mustard their golden hues, owes its superstar status to curcumin, an antioxidant and anti-inflammatory compound. A growing pile of studies has shown the ingredient protects against more than 70 different ailments, including heart attacks, diabetes and Alzheimer's. "Curcumin is also a proven cancer fighter," Kohlstadt said. "That's important for athletes who spend a lot of time out in the sun, since they may be at a greater risk for skin cancer." Laboratory research suggests that curcumin fights the disease in a number of ways, including preventing cells from mutating into their cancerous form and shrinking tumor cells.
In the short term, turmeric can ease post-exercise muscle pain and stiffness. A Thai study suggested that curcumin was as effective at relieving achy joints and muscles as ibuprofen, while researchers at the University of South Carolina found that the compound lessened the muscle damage caused by an uphill run. So load up on turmeric -- stir curry into your rice and veggie dishes, or go crazy with yellow mustard -- and you may be able to skip walking like Frankenstein the day after that grueling workout or race.