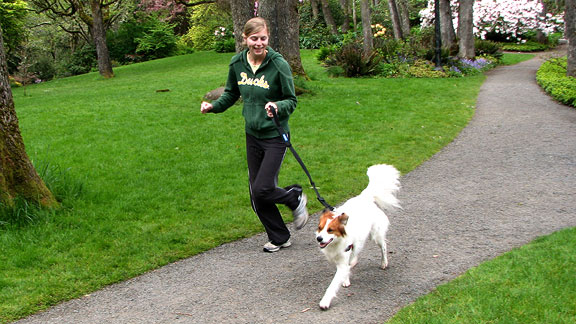 Courtesy of Catherine Ryan Catherine Ryan found out that to be serious runners, dogs, like athletes, need a little training.
Finn, my energetic, Kooiker-collie mix, seemed like the perfect running buddy. But the half a dozen attempts I'd made to jog with him last year never went well. Finn, about 2 years old then, alternated between running at full speed and stopping to sniff every blade of grass and rock and tree and bush. I suppose I got a decent workout -- mostly in my upper-body from pulling Finn away from every fire hydrant on our path. The impossibility of hitting my stride, though, made me give up in frustration.
Turns out, I abandoned the idea of a four-legged running partner too quickly. "Dogs are born to move and run, and they're ready for play or exercise whenever we are -- that's absolutely motivating for us as runners," said Desiree Snelleman, a Sumner, Washington-based member of the American Canine Sports Medicine Association. "Doing something together that you both enjoy is a great opportunity for bonding, too."
Finn just needed some training. Here are Snelleman's tips:
1. Do a physical fitness check. First make sure your dog's bones and muscles are developed enough for this kind of physical exertion. He should be past his puppy stage and finished growing (that age varies by breed). Also, know your dog's limitations. For example, tiny dogs, like Chihuahuas, aren't built to go long distances; neither are giant ones, like Mastiffs. Check with your vet and confirm that your dog is healthy enough to run.
2. Warm up. Walk for 10 minutes and let your dog sniff and answer nature's call. Once his bladder is empty, he'll be able to concentrate on the run. It's not important to stick to a strict schedule (say, running only at 8 a.m.), but avoid summer heat by jogging in the morning or evening. Unlike humans, dogs can't sweat and so they're prone to overheating.
3. Pick a side. Be consistent in where you hold the leash, either on the left or the right. Praise and practice will help him learn if he's not used to staying on one side of you. If he runs ahead of you, crosses over to the wrong side or stops to smell a hydrant, do not yell; that will only make him dread running. Instead, talk to him in an excited voice so he focuses on you; then try again.
4. Start small. The first day you laced up, you didn't run a 10K and neither should your dog. Begin by alternating block-long intervals of walking and jogging. Reward your pooch's good behavior (watching you for cues, staying by your side, resisting the temptation to stop and sniff) with verbal encouragement, play time or a treat after each jogging interval. He'll gain a positive association with running and know what you want from him.
5. Keep at this daily. A little bit of training every day, especially at first, helps your dog become accustomed to jogging alongside you at your pace. But do skip it if it's hot or humid outside. There's no precise ceiling for safe temperatures, but the longer or darker your dog's coat, the more at risk he is of overheating, so be cautious during the warmer months. What's more, stick to shaded dirt trails if the sidewalk, road or wherever you run is hot to the touch. Remember: Dogs don't have sneakers to protect their paws.
7. Build up distance. Gradually add length to your runs, keeping tabs on how your dog reacts. If he's panting heavily or lagging behind, you may have gone too far too fast, so slow down. (Unfortunately, there's no rule of thumb about how quickly you can add mileage -- a lot depends on your dog as well as his breed.) Once your outings reach 20 minutes, make sure to bring water for him.
8. Have fun. Your dog is apt to follow your instructions as long as he's having a good time, so vary the route you run and stop by an off-leash park or throw a tennis ball afterwards.