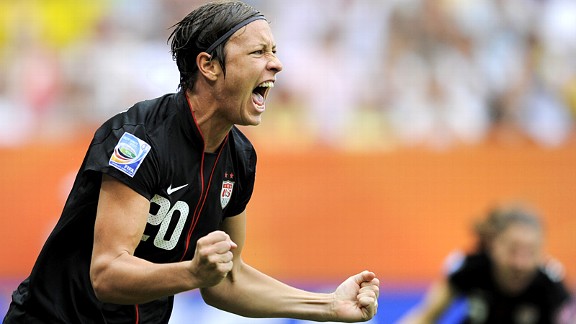 Robert Michael/AFP/Getty Images
No. 33
Abby Wambach
When Abby Wambach is on the soccer field, it's never hard to spot the best player. The woman sticks out. Always has.
At age 5, in her native Rochester, N.Y., Wambach was switched from a girls' team to a boys' side after scoring 27 goals in three games. Even when she was 16 and playing on a junior national team, the other girls still hadn't caught up. "You could see the qualities we all know today," says April Heinrichs, who coached Wambach on that squad before taking over the U.S. senior national team from 2000 to 2005. "She was great in the air, and she was a winner."
These days, the 5-foot-11 Wambach is almost always the tallest woman on the pitch, where her agility and skill for her size make her unique. She has scored 134 goals for Team USA, second all-time on the international stage, behind Mia Hamm's 158. But what really has set Wambach apart over the years is how she elevates her game at crunch time. "I've never seen her intimidated by anyone," Heinrichs says, "or by any challenge."
Wambach's fearless mentality has produced big wins at every level. As a freshman at Florida in 1998, she helped the Gators to their first and only NCAA championship. In just her second season as a pro, she led the WUSA champion Washington Freedom in goals. She made it look easy wherever she went, but of course that kind of success never is. Behind the scenes in D.C., Wambach was gaining the trust and mentorship of Hamm and parlaying their bond into a big plus for the national squad.
"The last threshold for Abby was learning how to practice as hard as she played," Heinrichs says. "We knew she was physically gifted. We knew she could carry a team after what she did in college. But she also wanted to be liked. She didn't want to train as competitively against her teammates. We had to push her."
Once Wambach took that step, nothing could stop her. She was the top scorer for the U.S. in her first World Cup, in 2003, and she led the Americans to gold at the 2004 Summer Olympics with four goals, including the overtime game-winner in the final against Brazil. That tally in the 112th minute gave a fitting send-off to the greatest generation of U.S. players: Hamm, Julie Foudy, Joy Fawcett and Brandi Chastain. But it was only Wambach's second-greatest goal. Last year, her perfectly executed header, on a ball from Megan Rapinoe, tied Brazil in the 122nd minute of the World Cup quarterfinals and created a highlight for the ages.
Such a play "doesn't happen by accident," Heinrichs says. "I show people a photo of that goal, and you can see that Abby is going to get hit by the keeper, in the face. But instead she got it on her head and in the net. This is Joe Montana to Dwight Clark, The Pass and The Catch. It's The Cross and The Header."
For Wambach, it's a play that encapsulates a career -- a triumph of technique and concentration.
A moment that sticks out.
-- Luke Cyphers, ESPN The Magazine