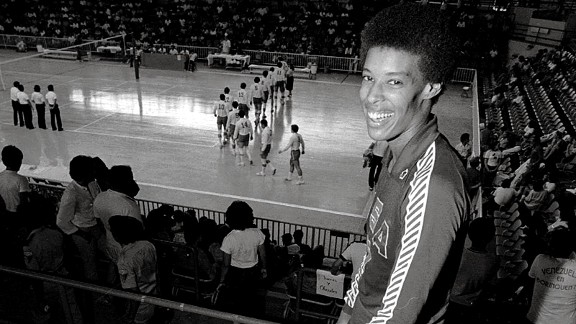 AP Photo
No. 34
Flo Hyman
In our increasingly data-driven sports world, a revolution must be quantified. And the numbers and awards say Flo Hyman was revolutionary in American volleyball history.
First, there were the firsts: She was the first female to earn a volleyball scholarship at the University of Houston; a member of the first U.S. Olympic team of any kind to train year-round; the first U.S woman named to an All-World Cup team (in 1981); and captain of the first U.S. women's volleyball team to earn an Olympic medal, with silver at the 1984 Los Angeles Games. She was also the first African-American woman to do all of these things.
But accolades alone can't do Hyman justice. For one thing, the 1980 U.S. boycott of the Summer Olympics in Moscow denied her the opportunity for more glory. And she had to be seen to be truly appreciated. She created a new aesthetic in women's volleyball, with her long, locomotive approach to attacks at the net, her powerful frame rising high above, and her glorious hair, a perfectly picked-out halo that turned her officially listed height of 6-foot-5 into ... who knows? "Probably 6-10 with that big ol' afro," says Hyman's longtime U.S. teammate, Laurel Iversen.
All of that was a theatrical, intimidating prelude to Hyman's devastating hitting. Legend has it she could spike the ball 110 mph. She hit so hard that the ball often had funky spin, making it appear to rise for an opponent ready to dig low -- the stuff of nightmares. At the same time, she was fiendishly accurate. "She could drill some angles you just couldn't even imagine," Iversen recalls.
As fierce as Hyman was on the court, she was friendly and endearing off it, with a smile that beamed and a personality that beckoned. She charmed members of Congress while testifying as an advocate for Title IX. Fans in Russia and Japan embraced her. On a team filled with pioneering standouts -- including Rita Buck-Crockett, one of the best pure athletes ever to play the game, and Debbie Green-Vargas, considered the best U.S. women's setter ever -- Hyman was the face. And yet she was forever giving credit to her teammates and to the sport. It's no coincidence that volleyball exploded on the high school level during Hyman's star turn, or that beach volleyball blossomed not long after she tragically left the stage.
When Hyman died in 1986, at the age of 31, during a match for her Japanese professional club, she instantly became a legend, as well as the symbol for a cause. An autopsy revealed she died of a heart problem associated with Marfan syndrome, a genetic disorder that weakens the body's connective tissue. Hyman's popularity raised awareness of Marfan's, which led to advances in treatment.
And so in death as in life, Flora Jean Hyman made everyone pay attention.
-- Luke Cyphers, ESPN The Magazine