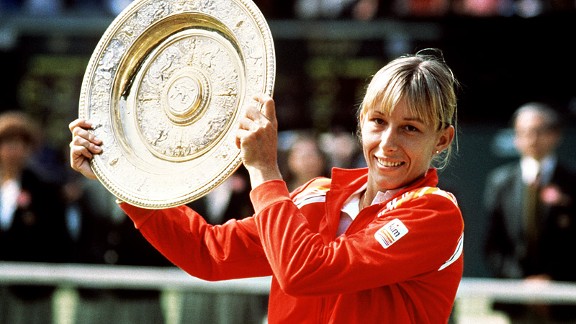 Getty Images
No. 2
Martina Navratilova
The woman Billie Jean King calls "the greatest singles, doubles and mixed doubles player who's ever lived" has much in common with the other athletes on this Top 40 list.
Like Nadia and Katarina, she emerged from an Eastern bloc communist country to garner such global renown that her first name alone confers immediate recognition and reverence. Like Grete Waitz, she augmented her natural gifts with rigorous physical training and as a result won one of her sport's most coveted crowns nine times. And like King, she has used the influence she accrued as the world's best player to promote social change in women's sports and in the broader culture -- as the president of the Women's Tennis Association, and then as an activist supporting animal rights, human rights, gay rights and political freedom.
But Martina Navratilova has no peer when it comes to prolonged excellence in the sport she helped define.
In 30-plus years of professional tennis, she amassed more singles titles (167) and doubles titles (177) than any woman or man in the Open Era. She won the WTA year-end championship a record eight times. She won 18 Grand Slam singles titles -- including a record nine Wimbledon trophies -- and 59 majors altogether, including the U.S. Open mixed doubles title in 2006, when she was a month shy of her 50th birthday. She claimed major titles in the 1970s, 1980s, 1990s and 2000s. "I do not believe that will ever happen again," says Pam Shriver, who paired with the lefty for 20 of Navratilova's 31 Grand Slam doubles titles and who calls their partnership "the gift of my career and the reason I got into the Hall of Fame."
Navratilova's long run began at the French Open in 1973, when she garnered attention by reaching the quarterfinals as an unseeded serve-and-volleying 16-year-old from Czechoslovakia. Two years later, after losing to Chris Evert in the U.S. Open semifinals, Navratilova defected. "I honestly felt I was born to be an American," she later wrote in her autobiography.
By the time she received her U.S. citizenship in 1981, she was a two-time Wimbledon singles champion, having defeated Evert in both finals with a net-rushing tactic honed by Australian great Roy Emerson. "That slice backhand approach is what won me Wimbledon in 1978 and '79," Navratilova says now. "Roy is the one who really perfected it and improved my backhand volley."
She would eventually become the most brilliant net player in the history of the game. But while Navratilova had the reflexes and the reach in those early days, she did not yet possess the extraordinary fitness that would become one of her trademarks. In 1981, she began training with basketball star Nancy Lieberman, who emphasized conditioning. Also that year, at the U.S. Open, Navratilova began working with Renee Richards, under whose tutelage she learned the topspin backhand -- and the value of strategizing.
"I retooled my game and learned how to really think of the court, what the tactics should be," Navratilova says. "I had a game plan before every match. So I became a totally new player."
The new player almost never lost. From 1982 through 1984, she dropped only six matches for an unfathomable three-year singles record of 254-6. Showing remarkable durability, Navratilova won 74 consecutive singles matches in 1984, an Open Era record. And starting with Wimbledon in 1983, she won six straight Slam singles titles. (In the early '80s, the Australian Open was the last major event on the schedule, so her amazing run doesn't count as a calendar-year Slam.) She also won the doubles Grand Slam in 1984. "At times I think everybody on tour felt she was unbeatable," says Shriver, now an ESPN analyst.
Opponents found Navratilova intimidating, but approachable. An unflaggingly competitive perfectionist, she was also a "softie, and someone who feels emotions very easily," Shriver says. And like her tennis peers, Navratilova's adopted country embraced her, most memorably at the 1981 U.S. Open, when she lost the final just two months after she was outed as gay. Moved by the crowd's warm ovation, she dropped her face to her hands and wept.
"I felt accepted as an American no matter what," she remembers. "Coming out is not a big deal today, but I was about 30 years ahead of my time. So that was a big deal to be accepted like that."
Navratilova was most comfortable on the pristine lawns of Wimbledon, where she hoisted the Rosewater Dish nine times from 1978 through 1990. Toward the end of that span, Steffi Graf and Monica Seles had turned tennis into a game for baseline bashers, but Navratilova could still do damage with her all-court game. "Martina found a way to hang in there through the beginning of the great power era," Shriver says. "She had power, she had intimidation, but she also brought great shot-making and finesse and feel."
That adaptability and resilience were again in evidence in 2010, when Navratilova underwent successful treatment for breast cancer -- and even managed to schedule her radiation sessions around TV commentary appearances. Her attitude, and her life story, amazes even those who have known her since the start of her epic career.
Says Shriver: "Sometimes I felt, here's somebody who's so burdened with things going on off-court, and yet look at her play. She is unbelievable that way."
-- Abigail Lorge, espnW