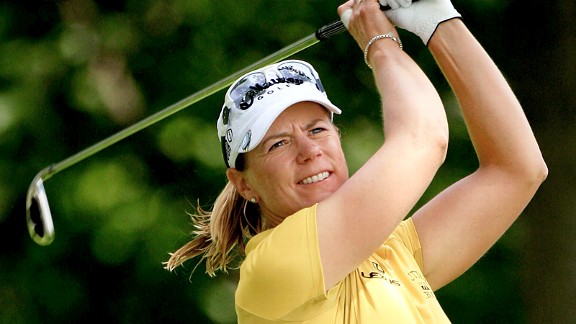 Travis Lindquist/Getty Images
No. 4
Annika Sorenstam
Call it a triumph of emphatic body language. Annika Sorenstam's feigned stagger of relief -- after doing something she did impeccably almost every day -- endeared her to her biggest audience of all.
She already was one of the most successful female golfers ever when she entered the PGA's Colonial tournament in 2003, saying she simply wanted to test herself against the best in the game. But the spectacle of a woman competing against men forced the sports world to pay attention -- to both Sorenstam and, by extension, the LPGA.
Perhaps the most remarkable part of it all was that Sorenstam had become such a willing ambassador. Swedish-born and Nordic-tempered, she once dreaded winning junior tournaments because of the speeches that were required afterward. When David Letterman's show called after her breakthrough victory at the 1995 U.S. Women's Open, she passed.
Yet eight years later, in Fort Worth, Texas, Sorenstam gamely withstood the media glare as a global television audience watched every hole she played. Although she missed the Colonial cut after rounds of 71 and 74, she displayed plenty of fan-friendly personality along the way. Her ice-breaking stagger came after her opening drive and served as comic acknowledgment of the pressure she'd been carrying right up until tee time. Shouts of "Go, Annika!" accompanied her for the rest of her two rounds.
You'd be hard-pressed to find another world-class athlete -- Sorenstam excelled at tennis, soccer and skiing before settling on golf -- who overcame the degree of shyness she did. Then again, she didn't have much choice.
"She was the dominant player in her sport," says Laura Davies, Sorenstam's teammate on eight Solheim Cup squads. "She had to change. It was that or really be miserable. I think by the end of her career, she actually enjoyed the spotlight."
It wasn't Sorenstam's only transformation. After winning an NCAA title at Arizona in 1991, she turned pro the following year and won back-to-back U.S Open titles in 1995 and '96. But it was the emergence of Australia's Karrie Webb as a worthy rival that spurred Sorenstam to reach her potential.
After working her way into the best shape of her life, Sorenstam was the LPGA's Player of the Year from 2001-05, winning 43 Tour titles during that stretch. In all, her 72 career LPGA titles are third all time, behind Kathy Whitworth's 88 and Mickey Wright's 82. Sorenstam also won 17 times on the European Tour.
"Whereas Nancy Lopez raised the profile of the LPGA, Annika raised the standard of the game," Davies says. "She just kept winning and winning. She set the bar so high."
Sorenstam was the first woman to shoot a 59 at a tournament, in 2001. She was player of the year a record eight times. She led Europe to Solheim victories over the United States in 2000 and 2003. She is the LPGA's all-time money winner with nearly $22.6 million in earnings. And in 2003, she was inducted into the World Golf Hall of Fame.
There were trying times too, including a divorce from first husband David Esch and a cold spell with her sister, fellow pro Charlotta Sorenstam. These days, though, the sisters work together within the Annika brand empire that Sorenstam has been nurturing since retiring from competition in 2008. Now married to business manager Mike McGee, she is busier than ever with a golf academy, clothing line, charitable foundation, course-design firm, financial planning group and wine label. At 41, the mother of two is a model for how to move on after a playing career ends.
Chalk it up to that impermeable resolve.
"We had an amazing table tennis match once. Neither of us wanted to lose," Davies remembers, smiling. "Whatever Annika did, she wanted to win. That's what made her great."
-- Mechelle Voepel, ESPN.com