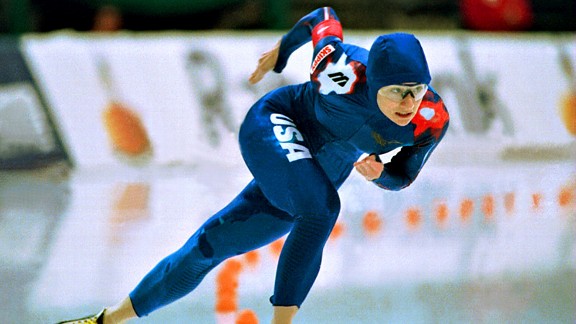 Mike Powell/Getty Images
No. 6
Bonnie Blair
Katherine Reutter was 9 years old when she caught chicken pox. She was stuck at home, unable to go outside or see friends, pining for ice skating practice. So Jay Reutter bought his daughter a book, and for the next seven days, she slathered her skin with calamine lotion while plowing through "Bonnie Blair: A Winning Edge."
The story of the Olympic speedskating champ struck a chord with Katherine, the only girl in her skating club. Blair had trained with boys, too, including her three older brothers. "Reading about Bonnie inspired me to break out of the shell of what girls are supposed to do," says Reutter, now 23 and a world champion in short-track speedskating. "I thought, 'If Bonnie could skate with the boys, I can too.'"
Reutter was reminded of Blair every time she walked into Centennial High in Champaign, Ill., and saw a photo of the school's most famous alum (Class of 1982). With five career gold medals at the Winter Olympics -- the most ever for an American woman -- Blair did nothing short of revolutionize speedskating in the U.S., paving the way for women like Reutter.
When Blair made her Olympic debut in 1984, at age 19, the East Germans ruled the sport, and they continued their dominance in Sarajevo, sweeping all four speedskating events. Blair's best finish was eighth in the 500 meters, but it was a building block. Four years later, she arrived at the Calgary Games with a reputation as the most ferocious trainer and the best technician on the women's side. With her long, powerful strides, Blair won gold in the 500 meters in 39.10 seconds, a world record; she also added bronze in the 1,000 meters.
"Bonnie was the first woman to break the hold that the former East German women had on the sport," says Dan Jansen, the men's gold medalist in the 1,000 meters at the 1994 Lillehammer Games. "We didn't have as much success as a country in the Winter Games, so Bonnie really stood out when she started winning. After she won her first gold, she hated to lose."
Blair won the 500 and 1,000 meters at the 1992 Albertville Games, then repeated that feat in Lillehammer. In fact, she dominated the 1,000 meters in 1994 -- her final Olympic appearance -- prevailing by the largest margin in the event's history (1.38 seconds). A month later, at a competition in Calgary, she became the first woman to break 39 seconds in the 500 meters, a longtime goal of hers. She would go on to share the cover of Sports Illustrated's Sportsperson of the Year issue with Norwegian speedskater and triple gold medalist Johann Olav Koss.
By the time Blair retired in 1995, she had won the World Cup points championship 11 times. She would eventually be enshrined in the U.S. Olympic Hall of Fame. And, of course, she has her own wall of honor at Centennial High, where her portrait hangs in a glass case, next to a box of Corn Flakes bearing her image, a pair of her skates and a personalized license plate: GOLDX5.
"Bonnie started from humble beginnings and became a legend," Reutter says. "Every day, I would look at her photo and think, 'I hope that's me someday.' "
But Reutter would be the first to tell you, there is only one Bonnie Blair.
-- Alyssa Roenigk, ESPN The Magazine