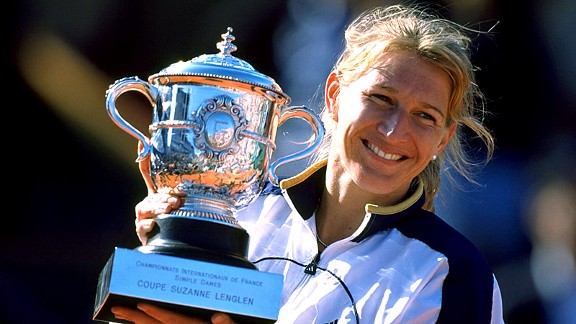 Al Bello/Getty Images
No. 9
Steffi Graf
She just happened to play tennis.
As a kid in West Germany, Steffi Graf was introduced to the game by her father, Peter, and entered her first tournament at age 5. She would eventually blossom into one of the all-time greats, winning 22 Grand Slam singles titles with the help of a monster forehand and immaculate footwork. But many people around her believe she might have become an Olympic swimmer, runner or even basketball player, so abundant were her athletic gifts.
Former men's tour player Brad Gilbert, who coached Graf's husband, Andre Agassi, remembers watching Graf run 400-meter repeats and marveling at her all-around talent. "There have been some great tennis players," Gilbert says. "But they weren't necessarily great athletes. Steffi's graceful movements and efficiency were second to none."
Her accomplishments also put her in rare territory. Graf, whose early career was controlled by her father, eased onto the international scene. But by 1987, she had established herself as a star, defeating Martina Navratilova in the French Open final that year as an 18-year-old. In 1988, Graf won the "Golden Slam," taking all four majors and winning an Olympic gold medal. She was ranked No. 1 in the world for 186 consecutive weeks, from August 1987 to March 1991, and for 377 weeks overall, both still records. Her 22 major titles rank second all-time, for women and men, behind Margaret Court's 24. She also pocketed $22 million in career prize money.
Dominating on a stage that had been built, in large part, by the pioneering efforts of the stars who came before her -- Navratilova, Billie Jean King, Chris Evert -- Graf approached the game with an extreme single-mindedness, never letting her attention wander from the task at hand. "She really was the first champion who didn't feel the obligation to further the cause of women's tennis off the court," says Pam Shriver, a former top-10 player and now an ESPN analyst. "The path had already been paved, so she was free to care only about winning. And that might have been a great thing for her tennis."
Graf's tennis was a beautiful blend of polished parts: the lightning-quick footwork, a strong serve and, of course, that vicious forehand, which earned her the nickname "Fraulein Forehand" and is still considered the best in women's tennis history. (Her backhand wasn't bad, either.) She possessed the physical tools, then set herself apart with a highly determined work ethic. "She would be out on the courts in the early morning putting in the work," Gilbert says. "She was always putting in the work. When somebody is that great and working harder than anybody else, that's when you get absolute greatness."
In August 1999, after a match in San Diego, the 30-year-old Graf announced her retirement. "I have done everything I wanted to do in tennis," she said. "I feel I have nothing left to accomplish."
And very few athletes have accomplished more.
-- Kate Fagan, espnW