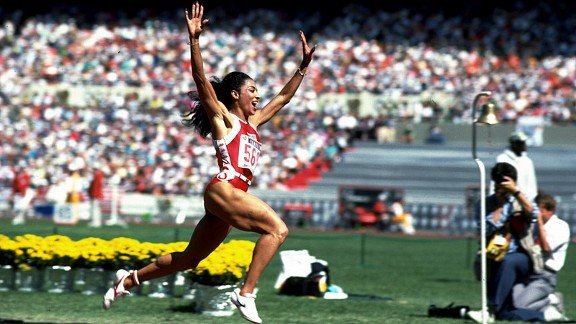 Getty Images
No. 12
Florence Griffith-Joyner
The world knew her as Flo-Jo, but to those who knew her well she was Florence.
She was stylish, graceful and faster than any woman in history, before or since. In the summer of 1988, Florence Griffith-Joyner set a pair of world records -- first in the 100 meters (10.49 seconds), then in the 200 meters (21.34) -- that many people believe will never be broken. She won three Olympic gold medals at the Seoul Games, in the 100, 200 and 4x100 relay; she also took silver in the 4x400 relay.
Shortly afterward, Griffith-Joyner surprised the track world by announcing her retirement. Although she was in the prime of her career, she had other passions to pursue: motherhood, for one, and also a career in fashion and design. She had grown up with 10 siblings in the projects of Los Angeles and took up running as a sport when she was only 7 years old. But while dedicating herself to track, she also cultivated other interests. In fact, she never intended to be a career sprinter, says her former husband, Al Joyner, who won gold in the triple jump at the 1984 L.A. Games and whose sister, Jackie Joyner-Kersee, still holds the world record in the heptathlon.
Griffith-Joyner had so much else she wanted to accomplish, and she was filling her life with those quests -- raising a daughter, Mary, designing new uniforms for the NBA's Indiana Pacers, writing children's books -- when she died unexpectedly of epilepsy at the age of 38, going to sleep one night in 1998 and never waking up. The world witnessed Flo-Jo's greatness in bursts of unparalled speed. And then she was gone all too quickly.
"One of the reasons she became so dominant was because of her passion," Joyner says. "She applied herself in everything she did. And it wasn't just running. It was motherhood; it was how deeply she loved. She was second to none in everything she tried."
But there was a time when Griffith-Joyner worried she would always finish second. She had a string of silver-medal performances in the 200 meters, her go-to distance, including at the L.A. Games and the 1987 world championships. Her former teammate and roommate at UCLA, Jeanette Bolden, who won relay gold in 1984 and now coaches the Bruins, remembers a woman whose goal was simply to be the best she could be -- whether that meant winning an NCAA title, an Olympic medal or setting world records. Sometimes, though, Griffith-Joyner worried that silver was the best she could do.
And then came that glorious summer. She had already wowed the track world with her record-setting performance in the 100 meters at the U.S. Olympic trials, and she arrived in Seoul as the favorite to win gold, as the transcendent star who raced wearing four-inch, painted fingernails and fashionable track outfits that she designed herself. She was track and field's cover woman. And when she finally won her first gold medal, easily pulling away in the second half of the 100, she dropped to her knees just after the finish line. (She would go on to win the 200 in record time.)
"I remember watching those Olympics, and it was like, Wow, she's finally achieved her goals, she's finally become the runner she always wanted to be," Bolden says. "But she wasn't one-dimensional. There was a lot more to Florence. She was so much more than just the person you saw running on that track."
The world saw the runner who became a household name, Flo-Jo. But Al Joyner saw Florence, the woman whose passion drove her to greatness.
"That's her legacy," he says. "The style and grace she brought to everything. That summer was Florence's one shining moment."
-- Kate Fagan, espnW