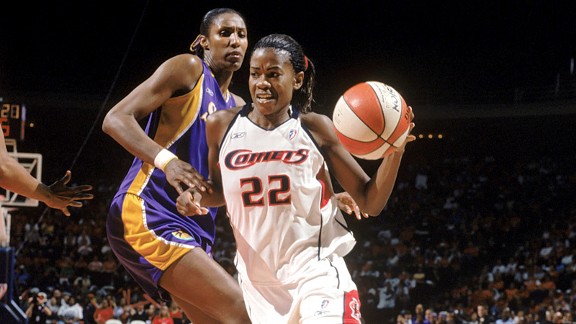 Bill Baptist/NBAE/Getty Images
No. 16
Sheryl Swoopes
The stage was set.
It was 1993, and women's hoops was on the cusp of a breakthrough. The Omni Arena in Atlanta was packed, the Final Four sold-out for the first time in history; a national TV audience awaited. All the game needed was a star.
Enter Sheryl Swoopes.
The 6-foot guard from Texas Tech was unstoppable that weekend, scoring 31 points in the semifinals and 47 in the title game as her Lady Red Raiders won it all. Swoopes still holds a handful of NCAA records from that season, including most points in a championship game -- man or woman.
"She had the perfect platform to take our game to the next level, and she didn't just deliver, she over-delivered," says Nancy Lieberman, an ESPN women's basketball analyst who also starred at Old Dominion in the late 1970s. "Sheryl bridged the past with the future and set the plate for the next generation. She was our first celebrity in the TV era."
By 1995, Nike had created the "Air Swoopes" sneaker; a year later, Swoopes won a gold medal with Team USA at the 1996 Summer Olympics in Atlanta; and in 1997, she was the first player to sign a contract in the new WNBA. She would end up dominating for more than a decade, winning two other gold medals, four WNBA titles with the Houston Comets and three league MVP awards. In 2011, she was voted by fans as one of the Top 15 players in WNBA history. (Swoopes, now 41, played for the WNBA's Tulsa Shock last summer, but remains unsigned this season.)
Marsha Sharp, who coached Swoopes at Texas Tech, remembers watching her walk onto the court for the gold-medal game between the U.S. and Brazil in 1996, exuding a laser-like focus. Right then, Sharp knew the Americans would win -- and they did, 111-87, with Swoopes scoring 16 points. She was a precise midrange scorer and a world-class defender, but that's not what fueled Sharp's confidence in Swoopes. "In my mind, the thing that always separated her was how she could elevate her game when the pressure was highest," Sharp says. "The spotlight spurs her to a different level."
It always has. Swoopes grew up with three older brothers in Brownfield, Texas, a small town just a stone's throw from Lubbock, home to Texas Tech. She played hoops because her brothers did, and joined an organized league when she was just 7 years old. Fast, strong and smooth, she would eventually lead Brownfield High to its first state championship in girls basketball. "Something existed in her that other people didn't possess," says Sharp, who took notice of Swoopes early in her high school career. "She was just never afraid of the moment."
Certainly not that weekend in 1993, when the game needed something, or someone, special to ensure that all those fans would walk away impressed. Women's basketball had pioneers who paved the way to that moment, but Swoopes was the one whose magical performance made the game commercially viable.
"I remember how that year, men were turning on the TV to see this phenom," Lieberman says. "We needed a magnet, and Sheryl Swoopes, from her name to her game, was exactly that."
The perfect star, on the perfect stage.
-- Kate Fagan, espnW
---
Sheryl Swoopes won the Honda Award in 1993 as the nation's top basketball player. Click here for more on the awards.