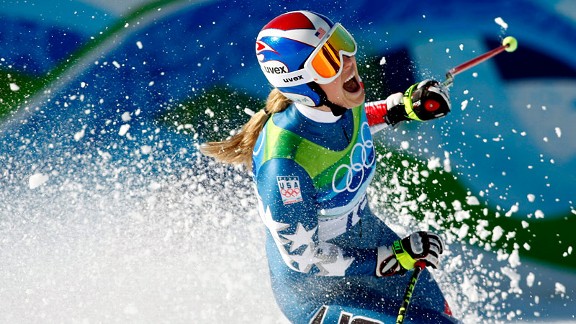 Jerry Lai/US Presswire
No. 19
Lindsey Vonn
Ten wins. That's all Lindsey Vonn needs to make the leap from being one of the best female ski racers ever to the greatest of all time. And if recent history is any indication, that accomplishment is inevitable -- and coming soon.
Vonn is sitting on 53 World Cup victories (26 in downhill, 18 in Super-G, five in combined, two in slalom and two in giant slalom). Annemarie Moser-Proll retired in 1980 with 62 individual World Cup wins, the most ever for a woman.
Considering that Vonn is only 27 years old and has won four of the past five overall World Cup titles, while capturing an average of 10 races per year over the past four seasons, she is in prime position to pass Moser-Proll. And Vonn could even make a run at Swedish legend Ingemar Stenmark, who won a record 86 races during his 16-season career.
"Lindsey is so close to being the all-time best," says Ted Ligety, the 2006 Olympic gold medalist in the combined and a three-time World Cup champ in giant slalom. "She's powerful and has strong technique. She skis in a lot of ways like the men. You see that displayed in the margins of her victories."
That's especially true in the downhill, the longest, most technical and most dangerous event, with skiers flying down a two-mile course over jumps and around tight turns at speeds approaching 80 mph. The difference between gold and silver can be just a few hundredths of a second -- and yet Vonn routinely wins by half a second or more. "She's at a different level," Ligety says.
That wasn't always the case for Vonn. The Minnesota native made her Olympic debut in 2002 at the Salt Lake City Games, finishing sixth in the combined. At the 2006 Turin Games, she crashed violently in a training run while preparing for the downhill and was flown by helicopter to a local hospital. She returned two days later to compete in the event, finishing eighth and winning the respect of her peers, the hearts of fans and the U.S. Olympic Spirit Award.
The Turin crash also perpetuated Vonn's reputation for taking risks other women didn't -- for skiing dangerously fast and sometimes out of control. But over the next two years, she learned to harness her power and make fewer mistakes on the technical sections of courses. The transformation was complete by 2008, when she won the first of three consecutive World Cup overall titles. This past February, she clinched her fifth straight downhill title, as well as the Super G and combined championships, becoming the first American -- man or woman -- to win four overall titles. In the midst of that run, Vonn also captured her first Olympic gold medal, winning the downhill at the 2010 Vancouver Games despite a badly bruised shin.
"Lindsey's tenacity has been most impressive to me," says longtime ski journalist Hank McKee. "She makes an attempt to outwork everybody, and nobody has been able to get close to her in the downhill. I think she's getting better with age."
As Vonn dominates her sport, she has also transcended it. "She's one of the most popular athletes in the country right now, and it's great for ski racing to have her," Ligety says. "It's hard to make the time to do all the extracurricular things you need to do in order to cross over into mainstream celebrity, but she's done a good job of branching out while still staying competitive."
While casual fans are drawn to Vonn's cover-worthy looks and effervescent personality, she knows the only way to maintain their interest is to keep winning.
"She's pushing the limits of what she can do on skis," Ligety says. "That's cool to watch. And we'll be watching her for many years."
-- Alyssa Roenigk, ESPN The Magazine