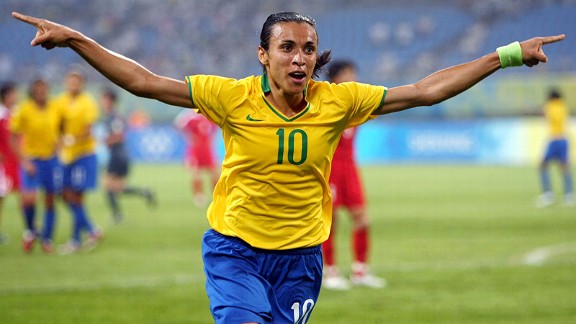 Lars Baron/Getty Images
No. 22
Marta Vieira da Silva
Leslie Osborne had seen a lot of soccer players, but she hadn't seen any like this.
While scouting the competition at the 2002 Under-19 Women's World Cup, the American midfielder caught her first glimpse of a young Brazilian forward. The girl was just 16 and went by only one name: Marta. But that's not what stood out the most. "She had qualities I had never seen before in other female players," Osborne recalls.
The teen had incredible touch on the ball, finesse, speed and a surprising amount of strength packed into a slight build. And it wasn't long before the rest of the world saw those same skills. Or until fans around the globe started flocking online to view them.
If the 1999 Women's World Cup final was a milestone because of how many people watched it live, then the impact of Marta Vieira da Silva's performance at the 2007 World Cup -- where the 5-foot-4 forward earned both the Golden Ball (top player) and Golden Boot (top scorer, with seven goals) in leading Brazil to a runner-up finish -- is best demonstrated by how many people have sought out her exploits after the fact. Her unparalleled creativity and technical skill are made for the age of social media.
Just 26 years old, Marta is already a five-time FIFA World Player of the Year (2006-10). She has netted 80 goals in 72 games for Brazil, and was the leading scorer in Women's Professional Soccer during each of her three seasons. But to really appreciate her mastery, you need watch merely six seconds of Brazil's 4-0 semifinal rout of the U.S. at the 2007 World Cup, something 2.5 million others have already done on YouTube.
Those few seconds and sparse yards were enough to allow for multiple moves, both subtle and spectacular. The end result was one American defender desperately grasping for the back of Marta's jersey, another barely able to keep her footing, and the nimble Brazilian blasting a shot past a goalkeeper who looked certain the ball would wind up anywhere other than inside the near post.
Greg Ryan, who was coaching the U.S. national team that night in China, remains in awe of what he witnessed. "That's got to be the top women's goal ever scored," Ryan says. "If you look at that clip, you will see the combination of things she brings that nobody else has."
The now-legendary goal was one of two Marta scored that day, ending the Americans' 51-match unbeaten streak. But it represents so much more. Marta has become a full-fledged superstar in soccer-mad South America, where the women's game has long struggled to make inroads. And the free-flowing action on display at the 2011 World Cup, from teams such as Japan and France, seems to suggest that countries around the globe are following her lead.
At least they're trying to.
"Marta is a very unique athlete," Ryan says. "Yes, she's fast. And even though she's small, she's very strong. But her ability to move laterally and her technical speed on the ball -- the speed at which she can change directions -- that is a completely different dimension from most athletes."
If you don't believe it, just watch the highlights.
-- Graham Hays, ESPN.com