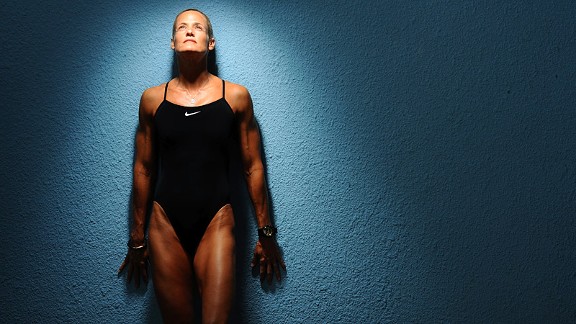 Jonathan Newton/The Washington Post/Getty Images
No. 25
Dara Torres
She is a sprinter, and one of the best in the world. Her 50-meter freestyle races are as close as a swimmer can get to instant gratification. Into the water. Out of the water. Done. In around 25 seconds.
But Dara Torres' achievements are a function of hanging around the pool for a very long time. Into the water. Out of the water. Again and again. For more than 25 years at an Olympic level.
Nobody has been faster longer than the 45-year-old mother. Torres has collected 12 Olympic medals -- tied with Jenny Thompson for the most in women's swimming history -- over five Games. And with London looming this summer, she isn't done yet. But she says her quest for a sixth Olympics appearance will be her last, and she insists it's not about pursuing the one career goal that has eluded her: an individual gold medal. (Her four golds have all come in relays.) "It's not about medals," Torres says. "I have enough."
Regardless of whether she qualifies for the London Games at the U.S. trials, Torres has put her stamp on the sport. "Dara is a freak of nature," says Rowdy Gaines, the NBC swimming analyst and three-time gold medalist at the 1984 Los Angeles Games, which also was Torres' first Olympics. "We've never seen anything like what she's done. Certainly, among women, she's one of the most influential swimmers of all time."
At the 2008 Beijing Games, Torres set an American record (24.07 seconds) and missed gold in the 50 meters by 0.01 of a second. "Half a little fingernail," as Gaines puts it. And at Torres' age, close counts for something. The 6-foot Floridian has always possessed tremendous physical strength and a remarkable feel for the water, which led to her holding the 50 free world record in the early 1980s. But her chief asset might be her focus, which Gaines believes is unrivaled in swimming, even by the great Michael Phelps. "She's a machine," Gaines says. "From taking care of her body to her nutrition to her workouts. During her time off from the sport, I guarantee you she was in as good or better shape as when she's swimming. And she's able to translate all that to the pool."
Torres skipped two Olympics, in 1996 and 2004, but was able to come back from those retirements and earn more medals, most notably taking three silvers in Beijing at age 41. She says her dry-land workouts, based on innovative strength training and an elaborate stretching regimen, helped improve her times even as she got older.
She took another break after 2009 but couldn't resist one more chance to make the U.S. team. After a two-year layoff and reconstructive knee surgery, Torres is still among the best in the world on any given day, swimming a time of 25.24 seconds in a runner-up finish at the U.S. winter nationals last year, just behind Jessica Hardy.
Torres' career provides a map for staying in the sport at its highest level and might have sparked a trend. Janet Evans, who dominated distance swimming in the 1980s and early '90s, is attempting an Olympic comeback this year at age 40. Meanwhile, Torres knows what her own legacy will be. "It's the longevity," she says, noting that her first Olympics came 28 years ago. "That's what I'm most proud of."
She has taken it 50 meters at a time, but her career has been a testament to endurance -- a marathon, not a sprint.
-- Luke Cyphers, ESPN The Magazine