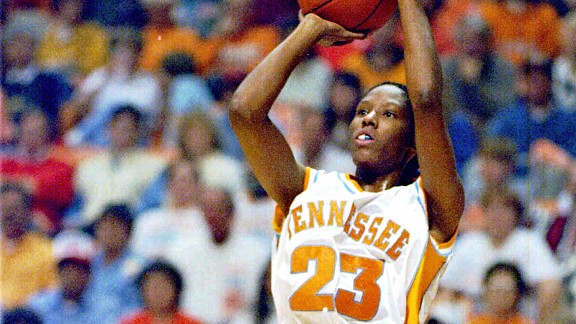 AP Photo/Wade Payne
No. 26
Chamique Holdsclaw
From the beginning, the city-girl-goes-south experiment was destined either for greatness or disaster: Chamique Holdsclaw, a hoops prodigy from the hardscrabble streets of Queens, taking her playground creativity to the University of Tennessee and a women's basketball program famous for old-fashioned discipline.
When she arrived on campus in 1995, the women's college game had already built a strong foundation, with growing fan support, television contracts and consistent media coverage. But what happened in Knoxville, Tenn., over the next four years, what Holdsclaw accomplished by surrendering her game to head coach Pat Summitt, demanded attention and admiration from even the most skeptical observers.
The Lady Vols became the first women's basketball team in NCAA history to three-peat, winning titles in 1996, '97 and '98. At the center of it all was Holdsclaw, tabbed the "female Michael Jordan," a 6-foot-2 forward whose smooth skills and oh-wow instincts made believers out of a whole new flock of fans. "Everyone wanted to witness her game," says former Tennessee teammate Kellie Jolly Harper, now head coach at North Carolina State. "And I don't think you could see it all on TV. You needed to see it in person."
On occasion, the crush to see Holdsclaw turned Tennessee games -- even those played in visiting arenas -- into rock concerts (albeit to the refrain of "Rocky Top"). Holly Warlick, an assistant coach for those UT squads, remembers that by Holdsclaw's senior season, the Lady Vols began traveling with a policeman. "When we were down at Vanderbilt that year, it felt like we were the Beatles," says Warlick, now Tennessee's head coach. "We had to back up the bus so Chamique could get on after the game. She brought so much attention everywhere she went."
That's because Holdsclaw's game was unlike anything women's basketball had seen. She had size, but also grace. She had a fluid outside shot, but could also post up. She possessed an endearing goofiness and innocence, but also a steely will at game's end. "She did things that we can't take credit for as coaches," Warlick says. "We knew, even then, that she was changing the game."
For the most part, Holdsclaw carried that weight effortlessly. Before and after each game, she would smile and become the ambassador she knew women's basketball needed. But sometimes the demand became too much. After one particular game, when UT's media relations director entered the locker room and requested Holdsclaw's presence at the news conference, Holdsclaw looked at Summitt and asked if, just this once, she could beg off. "That was the only time I remember her vividly exhausted," Harper recalls. "And Pat said, 'Absolutely. You don't need to go.' I think we all took for granted how much was asked of Chamique, how much pressure was on her."
Holdsclaw finished her college career with 3,025 points and 1,295 rebounds, becoming just the fifth player in NCAA history to score more than 3,000. She led Tennessee to a record of 134-17, and twice won the Naismith Award (1998 and '99) as the nation's top player. She would go on to become the No. 1 pick in the 1999 WNBA draft and earn Rookie of the Year honors. She was also a six-time WNBA All-Star and a member of Team USA, which won Olympic gold in 2000.
And yet there was something quiet about her pro career, which ended abruptly in 2007 when she announced her retirement. Later, she revealed that she had been battling depression. After taking time off, she felt strong enough to return to the WNBA for the 2009 and 2010 seasons. When she finally walked away for good, she had scored a total of 4,716 points in the league, averaging 16.9 per game.
But the reality is, no amount of pro success was ever going to eclipse those four magical years in Knoxville. Because in the end, Holdsclaw's name will always be synonymous with Tennessee, where her sublime elegance and style elevated the sport.
"She made every young player want to be the next Chamique Holdsclaw," Warlick says. "And, boy, was that good for women's basketball."
-- Kate Fagan, espnW
---
Chamique Holdsclaw won the Honda Award in 1997 and 1998 as the nation's top basketball player. Click here for more on the award.