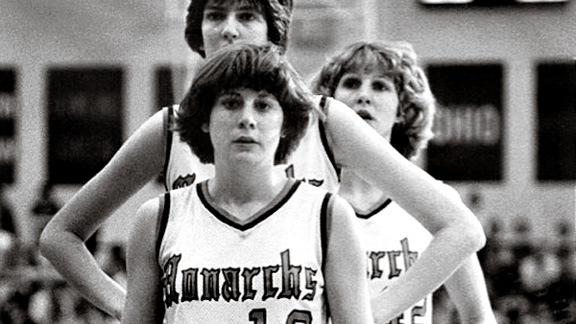 Courtesy of ODU Athletic Communications
No. 29
Nancy Lieberman
Nancy Lieberman has been a personal trainer, a public speaker, a columnist, a coach, a GM, a TV analyst ... even a contestant on "American Gladiators." But above all else, to borrow from the Bard, her play's the thing.
Shakespeare's Hamlet was referencing the stage, not the hardwood, of course. Either way, the allusion fits Lieberman, because even though she has worn many hats over the years (most recently as head coach and now assistant GM of the Texas Legends in the NBA Development League), all of those subsequent endeavors stemmed from her first role -- as a world-class basketball player.
Her legend was born on the pickup courts of New York City, where she honed her electric, all-around game. It was the early 1970s, but it didn't take long for the asphalt warriors (all men) to stop asking what the red-haired girl from Far Rockaway, Queens, was doing there. To them, she became just another player.
In the nascent days of the women's game, though, the 5-foot-10 Lieberman was definitely not just another player. At 17, she was named to the U.S. women's national team, which took silver a year later at the 1976 Summer Olympics in Montreal. She then enrolled at Old Dominion, where she led the Lady Monarchs to two AIAW national championships (1979 and '80) and became the first two-time winner of the Wade Trophy as the country's best player.
"Nancy was the face of the game," says Marianne Stanley, who coached Lieberman at ODU. "She was a relentless competitor, always seeking to improve. You had to chase her out of the gym. You could find her in there at 1 a.m."
Lieberman finished her college career with 2,430 points, 1,167 rebounds, 961 assists and 512 steals, remarkably robust numbers for a point guard.
"She had instincts that weren't common with other players back then," says former teammate Inge Nissen (pictured behind Lieberman and the 6-foot-8 Anne Donovan). "Nancy was more skilled than just about anybody else. Her ballhandling, her sharp passing -- and she was a fierce rebounder too. She was just way ahead of her time."
If Lieberman, 53, had been born 10 years later, she would have turned 29 during the WNBA's inaugural season, in 1997, instead of playing that summer for the Phoenix Mercury when she was well past her prime. (She would later serve as coach and GM of the Detroit Shock.) As it was, her pro career in the 1980s was played in the short-lived Women's Basketball League along with a stint in the men's USBL. During that decade, she became more well known for helping Martina Navratilova get into peak physical condition.
Then again, if Lieberman had been born 10 years earlier, she wouldn't have caught the initial wave of the Title IX era, which she rode all the way to the Basketball Hall of Fame (Class of 1996) as a pioneering player who brought a dynamic new dimension to the women's game.
"She had all of the point guard skills and the flair, along with the scoring ability and size," Stanley says. "She could have played any of the three perimeter positions. Heck, even the power forward, because she liked to post up. She really could do it all."
In that regard, Lieberman came along at exactly the right time.
-- Mechelle Voepel, ESPN.com
---
Nancy Lieberman won the Honda Award in 1979 and 1980 as the nation's top basketball player. Click here for more on the award.