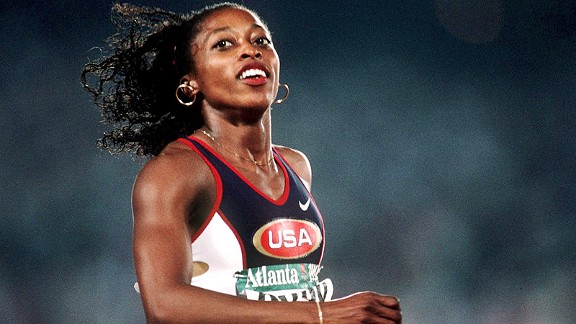 Alexander Hassenstein/Getty Images
No. 30
Gail Devers
Win in a photo finish at a huge race once, and maybe there's luck involved. Do it three times, twice for Olympic gold, and there's far more to it than luck. There's unshakeable determination and an unstoppable drive to run all the way through the line.
That sums up Gail Devers, one of the greatest sprinters in Olympic history, and certainly the one with the greatest flair for the dramatic.
At the 1992 Barcelona Games, Devers won gold in the 100 meters by beating Jamaica's Juliet Cuthbert in a photo finish. The next year, at the world championships, she won the 100 after besting Cuthbert's Jamaican compatriot, Merlene Ottey, in another photo finish. And at the 1996 Atlanta Games, Devers did it again, crossing the line in exactly the same time as Ottey, but winning gold thanks to the help of a high-speed camera.
Casual track fans -- the ones who pay attention every four years -- may remember Devers for her colorful and funky-long fingernails. But her true signature was breaking the hearts of her fiercest rivals.
Greece's Voula Patoulidou, gold medalist in the 100-meter hurdles in Barcelona, once said of Devers, "She's the person who never stops trying."
During her days at UCLA, nobody left a bigger mark on meets with USC than Devers did. "Those meets were almost more important to us than the Pac-10 or NCAAs," says Devers, who grew up near San Diego. "We had to win." She recalls USC fans setting off dorm fire alarms every other hour on the eve of competition, so she and her teammates couldn't sleep.
The contests between the two schools played to Devers' world-class versatility. She not only won her specialties -- the 100 meters and the 100-meter hurdles -- but she also scored points on the 4x400 relay team, as a long jumper, and even as a triple jumper. "I remember going over to the pit and [coach] Bob Kersee walking me through it," she says. 'Right, right, left. Hop, step, jump.'" With no training, Devers leaped an impressive 42 feet, 6 inches, finishing third overall during a 1986 meet. "We needed points, and that's what you do on a team."
Following college, Devers found herself battling a new opponent, Graves' disease, which was originally misdiagnosed and worsened to the point where doctors considered amputating her feet. Thyroid medications and a change in diet allowed her to control the condition, and within a couple of years, she had become the world's best 100-meter runner.
She was also the best 100-meter hurdler, winning three world championships (although mishaps in 1992 and '96 kept her off the Olympic podium). And she stayed in top form for the better part of two decades, winning the Millrose Games 60-meter hurdles in 2006, at the age of 40, setting an age-group record.
"If you have a love for life, and opportunities are presented to you, you make the best of those opportunities," Devers says. "I'm willing to do whatever I have to do, and I'm going to ride it until the wheels fall off."
All the way through the photo finish.
-- Luke Cyphers, ESPN The Magazine