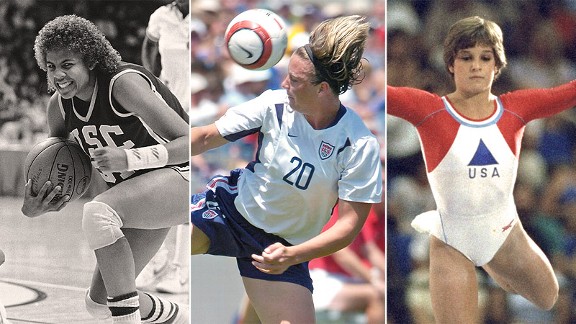 AP Photo
Who's No. 1?
From Martina and Serena to Annika and Danica, female athletes have grown into one-name wonders known the world over.
And as ESPN marks the 40th anniversary of Title IX -- a law whose ripple effects extend far beyond the U.S., creating a women's sports culture awash in opportunity -- it's the perfect time to pause, reflect and ask one question: Who's the best of the best?
An industry-wide panel of journalists and women's sports experts have cast their votes, which were tabulated by an independent, outside agency. Now it's time to unveil the top 40 female athletes of the past 40 years. Each weekday, from April 30 to June 22, we'll count down the list, both here at espnW and on "SportsCenter" -- spotlighting an athlete and her awesome accomplishments. (Click here to get the full story.)
But we want to hear from you, too. Who's in your top 10? Who's your No. 1? Did the panel get it right? Check in every day, then chime in with your comments. The more debate, the better.
We're ready to defend our rankings. Are you ready to defend yours?