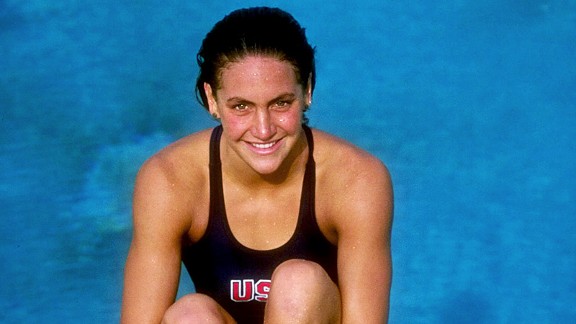 Ken Levine/Getty Images
Summer Sanders
Summer Sanders' performance at the 1992 Olympics in Barcelona -- two golds, a silver and a bronze -- capped a stretch that included back-to-back NCAA Swimmer of the Year awards at Stanford. She then deftly used her success in the pool as a springboard for a TV career. Sanders shares one of her more laughable outtakes here, while also expressing gratitude that she came of age at a time when all of it was possible.
My mom was born and raised in a small Nebraska town where everyone eats and breathes Nebraska football. She rode horses, lifeguarded at the pool and taught swimming, but she had had zero opportunities in sports. My aunt was a football coach at age 15 in 1965 -- she coached a youth team -- and was an amazing golfer, but she never had sports opportunities either. So it was ingrained in me at an early age that I should be grateful to have chances they didn't have. At the Olympics in 1992, I was swimming for my mom and my aunt.
When I retired after the '92 Games, CBS asked me to work the NCAA swimming championships in Minneapolis. The TV journalism classes at Stanford were during swim practice, so I never had an opportunity to take one. I just jumped in with CBS -- and learned the hard way about appearances.
People say, "Do your own makeup." As a swimmer, though, I never wore makeup. If you looked at my bathroom in high school, I didn't own any makeup, not even mascara. But my biggest gaffe in Minneapolis was my wardrobe. I borrowed a fuchsia blouse from my best friend and thought it would look great. Well, we filmed our stand-ups upstairs, and the heat rose from the pool. The blouse was 100 percent silk. When I tell you I was sweating, that is an understatement. We had to stop filming and finish the next day.
Thankfully I still got other on-air jobs. At the 1992 Olympics, I saw Ahmad Rashad at the men's basketball final, and he was the host of "NBA Inside Stuff." I always watched the show and had almost a sixth sense that I'd host it some day. We chatted and he was nice, but we didn't keep in contact. At the Olympics in '96, I saw Ahmad again, and soon after I started doing pieces for the show and sideline reporting for the WNBA on Lifetime. Then the host position at "Inside Stuff" became available in 1998, and I ended up in that role for eight years.
I was always a huge hoops fan and a huge Michael Jordan fan. I wrote "23" on my swim cap; I wore Air Jordans to my high school graduation; I traveled with Jordan posters and put them up in my hotel room; I taped his interview on Arsenio Hall and replayed it over and over, so I pretty much have it memorized.
We had a hoop in our backyard when I was a kid, and my brother and I would play. I was horrible, but my brother was so sweet -- he would tell me my shot was just like Cheryl Miller's. It wasn't until 10 years ago that I finally learned he was kidding the whole time.
-- As told to Anna Katherine Clemmons, ESPN.com