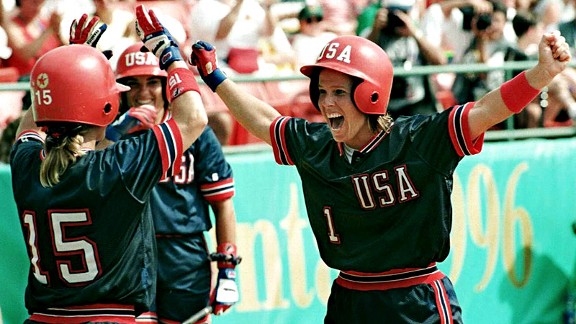 Joel Robine/AFP/Getty Images
Dot Richardson
She was born in 1961, when most playing fields were still off limits to girls. But with plenty of chutzpah -- and some help from Title IX -- Dot Richardson became a softball legend. The Orlando native was a three-time All-American at UCLA and the NCAA Player of the Decade for the 1980s. As a slugging shortstop, Richardson led the U.S. to four gold medals at the Pan American Games and hit the home run that beat China for gold at the 1996 Summer Olympics, softball's debut on that stage. (She is shown here during a prelim game in Atlanta.) Richardson retired after winning gold again at the 2000 Sydney Games. "Dr. Dot," who also challenged gender stereotypes by becoming an orthopedic surgeon, talks with espnW about her early battles to find a spot on the field.
When I was growing up, I was told, 'It's too bad you were born a girl, because you can't play on a sports team -- only boys can.' So I had to watch my brothers play, even though I was always getting picked ahead of them in playground games. I would stand on the sidelines, dreaming about being part of the team.
One day when I was 10, my brother asked me to help break in his new catcher's mitt before a Little League game. We threw for a while, and after the game, his coach said to me, 'You have a great arm. How would you like to play on my team?' Before I could even answer, he added, 'We'll have to cut your hair really short and call you Bob.' I thought about it for a minute, then said, 'Thank you, but no thank you.' I told him I didn't feel it was right to hide who I was.
Then I went to have a catch with a friend on a different field, which I didn't realize was for slow-pitch softball. Another coach walked up and said, 'You have a great arm. Can you talk to the head coach for a minute?' I said sure, even though I was thinking it would just be someone else asking me to pretend to be a boy. But then I noticed there were women on the field, and a female coach came out of the dugout. She asked if I had ever played softball. I said I hadn't. She told me to jog over to third base to take a few ground balls. Afterward, she asked if I wanted to play on her fast-pitch softball team. She said it was just like baseball, but the ball was a little bigger. I asked my mom and dad, and they said I could. So my athletic career began at age 10, on a team whose players were twice as old as I was.
When I was in seventh grade, I was on a boys' track team because there weren't any girls' teams. I won a trophy, and of course it had a man on it. The next year was the first time they had girls' sports at school, and I played everything I could. In ninth grade, I was selected as the school's Most Outstanding Athlete, which was the first time a girl had even been considered for the award. A lot of the moms freaked out because they clearly felt only boys should be competitive.
Many of us have reaped the benefits of Title IX and appreciate it so much. But girls today sometimes take their opportunities for granted. So I'm glad I'm around to share my story and tell them it wasn't too long ago that I would have had to disguise myself as a boy to play the sport I loved.
-- As told to Anna Katherine Clemmons, ESPN.com