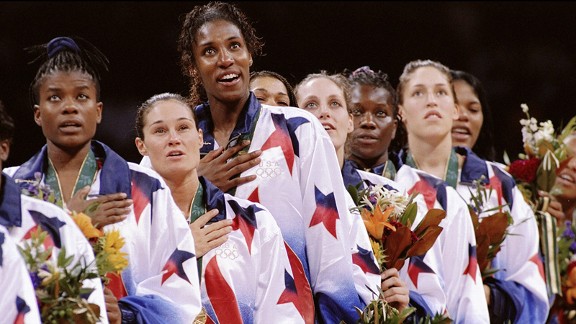 Rick Stewart/Getty Images
Lisa Leslie
An original member of the WNBA, Lisa Leslie (third from left in photo) played 12 seasons with the Los Angeles Sparks and is the league's all-time leading rebounder and No. 2 scorer. But it was the success of the U.S. women's basketball team at the 1996 Summer Olympics that set the stage for those achievements. These days, the USC grad pays it forward on the board of the Capital One Cup, which awards $200,000 at the ESPYs to the nation's best men's and women's Division I athletic programs. When we caught up with Leslie recently, though, she happily looked back on those magical two weeks in Atlanta 16 years ago.
I consider myself a Title IX baby because I was born the year the law passed. I was aware early on that we weren't promised opportunity, and I give my mom a lot of credit for inspiring me to pursue my goals with passion and tenacity. That carried into basketball, especially at the 1996 Olympics.
The U.S. women's team had won bronze in 1992 and bronze again at the world championships in 1994, so the U.S. Olympic Committee decided to have us train together for a year, hoping we could reclaim gold on our own turf. I went into the tryout with about 300 women; we were wearing numbers from 1 to 300. Every two or three practices, you'd see if your name was still on the board.
We had big names: Sheryl Swoopes, Dawn Staley, Teresa Edwards. The team was a mix of younger and older players who came together over a year of traveling the world. We did a college tour, which was phenomenal, because we showed female players that there was a level of basketball beyond college. Dawn and Teresa were our vocal leaders. Carla McGhee was funny and outgoing. Jennifer Azzi and myself were the "broadcasters" -- with our pretend microphones. I don't think I've ever been on a team with such great chemistry. We were undefeated when we got to Atlanta. [The team ended up going 60-0.]
The day before our gold-medal game, I watched the gymnasts win gold on TV, and they were crying. Then this huge wrestler won gold and he was crying. I couldn't understand what all the tears were about. Until we beat Brazil. We're on the podium, and our flag is raised, our national anthem begins, 35,000 people are chanting "U-S-A" -- and everyone in the room is crying. I'm crying and thinking, "OK, I understand now."
Candace Parker has talked about how she saw us when she was 8 or 9, and that showed her what she wanted to do. Diana Taurasi says the same thing. And now those young women are inspiring a new generation. It has really come full circle.
-- As told to Anna Katherine Clemmons, ESPN.com