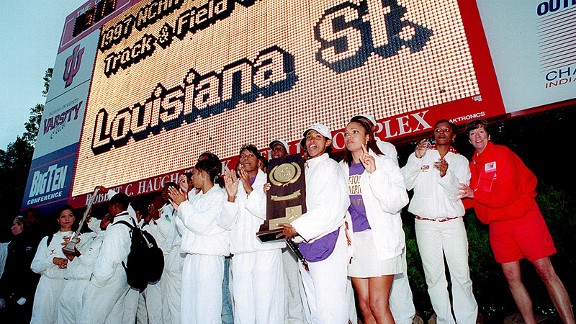 AP Photo/NCAA Photos
Sweet streaks
LSU track and field
Won 11 straight national championships.
Some programs attract so much talent year after year that they become transcendent. Exhibit A: LSU, whose 11 straight outdoor national titles, from 1987 to 1997 (that's the '97 team at right), is an NCAA Division I record across all women's sports. "Putting on that purple and gold uniform meant more to them than just what was happening in the moment," says Pat Henry, LSU's head coach from 1988 to 2004.
"It meant they were representing a tradition," he explains. And that tradition included 24 women
who won multiple national indoor and outdoor championships during their careers, including Olympic gold medalists Sheila Echols (4x100 meters in 1988) and Esther Jones (4x100 in 1992). Talent. Tradition. Transcendent.