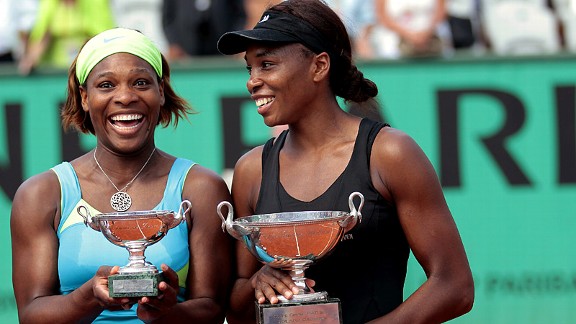 Jacques Demarthon/AFP/Getty Images
Nine sizzling sibling rivalries
When Samantha Posey followed big brother Buster onto the diamond, she wasn't pondering the legislation that made her opportunity possible. When Candace Parker first went one-on-one with big brother Anthony, it wasn't to stand up for the women who'd once been turned away from the court. Samantha and Candace just wanted to play. And the funny thing is, Title IX is what made such mundane motivation possible.
The legislation did more than change the rules; it changed mindsets, altering both male and female perceptions of what girls could and should do. In the process, it revved up sibling rivalries. Brothers began to see their sisters not only as athletes, but equals. Venuses and Serenas everywhere pushed one another to be better, nowhere more relentlessly than on the courts of Compton, Calif., where the Williams sisters honed their strokes on the way to becoming the sports world's most famous sister act.
Like that Grand Slam duo, these nine sets of super-sibs had to one-up each other before they could ace the competition.
-- Alyssa Roenigk, ESPN The Magazine