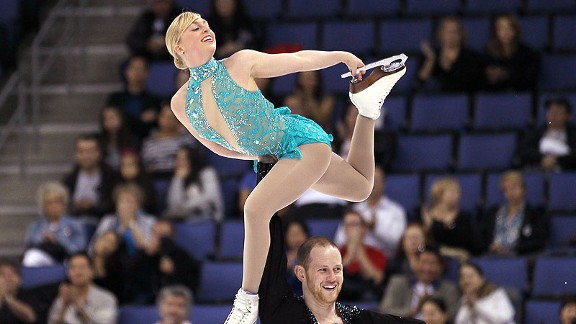 Stephen Dunn/Getty ImagesCoughlin and Denney felt a connection the first time they skated together.
Considering the facts and figures, John Coughlin and Caydee Denney skating together didn't add up.
Coughlin was looking to end his career. Denney was looking to continue hers.
Coughlin is 25 and stands 6 feet 2. Denney is 18 and stands 5-0.
They share a pairs national title, but not with each other. Coughlin won one in 2011 with Caitlin Yankowskas, his partner for four seasons. Denney won in 2010 with Jeremy Barrett, paired together for three seasons.
But skating's odd couple, it turns out, isn't so odd at all. The first time they skated with one another this spring, something unexpected happened.
"Literally in the first 10 minutes there was an instant connection," coach Dalilah Sappenfield said. "The timing was very similar very quickly."
Timing in pairs is huge. Sappenfield was talking about how difficult it is to get skaters' strides to match when there's such a height difference. But because Denney is strong on her skates -- she competed in singles -- she can keep up with Coughlin's long strokes.
The timing issue easily could have been about circumstance. The United States hasn't won an Olympic medal in pairs since 1988. Why, some asked, derail the progress of two of America's best pairs teams now, three years before the 2014 Olympics?
"That's a valid question," Coughlin said, before answering it with this: "There are a lot of moving parts in a pairs team."
It boiled down to timing. Coughlin was unhappy.
"I was ready to be done with my skating entirely," he said. "I wasn't enjoying it personally."
Sappenfield, who coached Coughlin and Yankowskas, said "after having so much success, an athlete has to run their own life, has to find happiness."
Coughlin's friends begged him to reconsider quitting. He had vague plans to coach or skate professionally. They didn't want him to regret a career that, perhaps, hadn't run its course.
Coughlin was coming off a draining season. His mom, Stacy, died of a chronic illness in February 2010.
She was his "best friend, the person I shared my skating the most with," he said.
Coughlin, who with Yankowskas finished sixth at the 2011 world championships, had dedicated his season to his mom and didn't want to fall short. That season, he said, "took a lot out of me."
After failing to make the 2010 Olympic team, Coughlin's personal loss produced a fearlessness he hadn't experienced before. It helped him, he said, make changes he might not have before his mother died.
"As a coach, you would obviously never do that," Sappenfield said of breaking up the defending national-champion pairs team. "I had to give him the choice to make at his age. I was going to support him no matter what…For him, that was a decision he came to by himself."
Meanwhile, Denney was adrift. Her partner, Barrett, had decided to retire following a gruesome training accident where Denney's skate blade sliced his right calf, cutting it to the bone and necessitating 41 stitches. They had skated in the 2010 Olympics, finishing 13th, and had three podium finishes at nationals.
This spring, Denney was home in Wesley Chapel, Fla., mulling her options while her younger sister, Haven, also a pairs skater, was training with Sappenfield in Colorado Springs.
First one thing clicked, then another. Sappenfield spied Denney's mom, DeeDee, at the rink. She asked where Caydee was. Touring a college campus, DeeDee said. Could Caydee get to Colorado Springs quickly for a tryout with Coughlin?
"I got her a very expensive plane ticket," DeeDee said.
DeeDee knows the value of a good partnership. She is a two-time national rollerskate pairs champion, in 1986 and 1987. A few years later, in 1990, she and husband Bryan competed nationally as a rollerskating pair before DeeDee blew out her knee, ending her competitive career. Still, an imprint had been made: Caydee and Haven grew up as "rink rats" of the wheeled variety before switching to ice.
It was an easy choice.
"There's no Olympics in roller skating," Caydee Denney said.
Denney said that skating with Coughlin, 14 inches taller, is a blast. If a couple can skate and spin in sync, the size disparity is a huge advantage because it makes lifts and throws easier. Coughlin, the son of a veteran police officer, is powerfully built.
At the end of their free skate, Coughlin holds Denney aloft and skates nearly the circumference of the rink. Few pairs can manage such an enduring hold.
"Things are a lot more explosive and dynamic and bigger," Denney said. "It's just a lot of fun. It's really cool."
Coughlin's power took some getting used to. The first time they tried a triple twist, where the man tosses the woman overhead in a layout position for three turns, they went too far.
"I wasn't really ready for it," Denney said, "and I did three-and-a-half. I over-rotated it."
It was an eye-opener.
"The first time I did something it was like, `Wow. We have the power, we have potentially the force to do something not too many U.S. pairs teams have done before in the past,'" Denney remembers thinking.
But their lack of time together shows. After winning early season bronze at the Nebelhorn Trophy event, their start has been rocky. In both Grand Prix circuit events, they've finished out of the medals and failed to qualify for December's Grand Prix Final.
Sometimes their spin speed is off. Their throws can be hit-or-miss. They were fourth at Skate America. In Japan's NHK competition earlier this month, they were fourth after the short program, landing the big triple twist and throw triple flip to put them in medal contention. But Coughlin and Denney wound up fifth after Denney's fall on their throw triple loop in the free skate.
Sitting together on the long plane ride home from Japan, the pair got back in synch. Together, each pulled out a pad of paper to assess their performance and plans. At 8 a.m. the next day, they were back at the practice rink.
"They're both workaholics," DeeDee said.
Denney and Coughlin said they're in it for the long haul. Their next big event is the U.S. championships in January in San Jose, Calif. Eying the 2014 Olympics in Sochi, Russia, they said they're not tired of the inevitable and persistent query about why a U.S. pairs team hasn't medaled in the Olympics since Jill Watson and Peter Oppegard took bronze in 1988.
"It's a question we like," Coughlin said. "It keeps us motivated and pushing the envelope.
"It's what we're pushing so hard for. National championships are very exciting, but there are several teams in the U.S. that have experienced that.
"At the end of the day, we have bigger goals, to stand on that podium for the U.S. at worlds and in the Olympics."
They have three years to get the timing right.