Day 1 coverage from the 2011 NFL draft
11:40 -- Round 1 of the draft concludes with probably the least amount of boos ever for a first round. Even Giants and Jets fans were all for their picks. Of course, the happiness probably stems from the fact that we're watching something football-related after months of lockout talk. Even though a football wasn't being thrown around, players were in the house. And legends, too -- from Barry Sanders to Deion Sanders to Shannon Sharpe. With chants like "We want foot-ball!" fans are anxious for things to get moving in the right direction. And tonight was a good start; in fact, league commissioner Roger Goodell said, "I agree with you," speaking to the fans. The rookies sensed the optimism, as well. During his press conference, Blaine Gabbert said, "I'm speaking for every player in this draft that we're happy they've reached an agreement." Although the lockout is not out of the woods yet, the NFL has moved one step closer to reopening for business.
-- Jared Zwerling
---
11:22 -- Some Jets fans thought the team might select DE Da'Quan Bowers, but the team went with DE Muhammad Wilkerson instead. Either way, there was a huge applause guaranteed from the "J-E-T-S Jets Jets Jets!!" fans in the house. (By the way, when I tried Shazam-ing the song they played when Wilkerson was drafted, my phone said it didn't recognize the song -- something that sounded like underground hip-hop. I guess the best thing for the Giants about having a worse record -- and earlier draft pick -- is that getting a better song played at the draft. Actually, make that two songs: "New York, New York" AND "Empire State of Mind.") Let's just hope, for Jets fans, they just don't have to Just End The Season early because of the effect of a crappy draft song.
-- Jared Zwerling
---
11:08 -- Even though the Saints had the 28th pick, they came marching in tonight. And now their own Reggie Bush has reason to be worried. That's because his Saints drafted former Alabama running back star and 2009 Heisman Trophy winner Mark Ingram, who now definitely will have a chip on his shoulder to prove his late-round status is bogus. Plus, what rookie wouldn't want to play for the Saints? They are the Knicks of the NFL and love to play offense (unlike the Knicks, they play defense, too). They wouldn't have won the Super Bowl in 2010 without it.
-- Jared Zwerling
---
10:50 -- While Prince Amukamara might have had a Prince-like moment on stage -- with dozens of his family and friends up there with him -- in the green room he was feeling like Mr. Exiled. "I had a Brady Quinn flashback, just waiting for the phone call." If you recall, Quinn was projected to go in the top 5 in the 2007 draft -- even as the first pick -- but he fell to No. 22. Amukamara fell to No. 19 to the Giants, but, he said, "I'm glad to be here." Not only that, he said that Tom Coughlin is fired up to have him here. Amukamara's falling to the Giants comes at a surprise, even though most fans are pleased. New York didn't even work him out. Now he'll be sharing the big stage in NYC with arguably the best cornerback in the country: Darrelle Revis. "He's an amazing corner," Amukamara said.
-- Jared Zwerling
---
10:20 -- What do you know -- Blaine Gabbert did study finance in college! He said he has plans to finish his degree in the offseason. So, wondering what the most stressful part of Gabbert's draft week was? Well, nothing. "It's very cool, talking to you guys. It's a good deal." Gabbert is lucky to have been drafted by the Jaguars, not only because he grew up down there ("I love Florida"). He has two security blankets on the field: Mercedes Lewis at tight end ("It's definitely a comfort for the quarterback; we also had a great tight end in Missouri.") and Pro Bowler Maurice Jones-Drew at running back.
-- Jared Zwerling
---
10:04 -- After "New York, New York" and "Empire State of Mind," two hugely popular songs in New York, were played for the Giants, I wonder what's going to be left for the Jets? As Amukamara's family and friends appear on stage -- definitely more than two dozen people -- it's like an African ceremony is taking place. His mom is wearing a yellow gown -- the brightest of the night. But it makes sense that Amukamara brought the whole clan -- it's his first time in New York City. He said he rode the subway and took in a baseball game.
-- Jared Zwerling
---
9:59 -- New Charger Corey Liguet is trying to give an interview with NFL Network in the orchestra section of Radio City, but, as it's going on, not only does "New York, New York" start playing from the speakers, but fans start chanting "Let's go Gi-ants! Let's go Gi-ants!" Some Giant fans want OT Anthony Castonzo from Boston College; others want cornerback Prince Amukamara from Nebraska. Well, New York gets its Prince, and "Empire State of Mind" sounds off from the stage. Loud cheers erupt and fans continue: "Let's go Gi-ants! Let's go Gi-ants!"
-- Jared Zwerling
---
9:45 -- We're now an hour and 45 minutes into the draft, and the wi-fi here is still acting like it's constipated. A media member next to me says, "Same thing last year." It all feels like it's been put together last minute -- you know, except for the elaborate stage presence with multiple TV screens. The media food table downstairs is another sight to see. Everything is "Honey, I Shrunk The Kids"-sized. Small brownies, and even miniature-sized pretzels. Never seen that before. It's a good thing the rookies aren't allowed in there, or else it'd be a long, long night.
-- Jared Zwerling
---
9:24 -- Wide receiver A.J. Green knows two things about Cincinnati: The city has a great amusement park, and Chad Johnson is up in the air about returning. "Hopefully Chad can still be there," Green says. "I need to get his number and text him to come back." Green will have to hope is that Johnson doesn't fall in love with the other football too much -- he's currently attempting to play professionally in the MLS. By the way, Green almost gave up studying business in college because it was too tough, but his parents pushed him to stick with it. Now with his business expertise, he says, "Hopefully I don't need too many people to handle my money." Being that he's a top rookie, it's a good thing he kept at it.
-- Jared Zwerling
---
9:17 -- With a young kid among the media asking questions in the press conference room, Patrick Peterson describes why the cornerback is the second most important position in the NFL (after the quarterback): "You don't want teams throwing balls all over you." Peterson says if he had to give himself a grade, he'd say an A. "I'm at my peak. I'm like a Ferrari." In regards to Cam Newton, Peterson says "I think definitely think Cam deserves to be No. 1. He's a fierce competitor." By the way -- red is his favorite color, so he (and Cardinals fans) will be plenty happy about his new jersey.
-- Jared Zwerling
---
9:00 -- Missouri QB Blaine Gabbert gets selected, but I'm not sure if he realizes it. He sits there in the green room yapping away on his cell phone for an extra two minutes. Perhaps already getting that Herbal Essence deal lined up for his slicked back financial district hair? With that 'do, he definitely doesn't look like a college quarterback -- they usually have crew cuts. Gabbert's looking more like a linebacker if you ask me -- a bit like A.J. Hawk.
-- Jared Zwerling
---
8:45 -- Cam Newton appears to address the media, and he's immediately bombarded with multiple questions at the same time. Without a press attendant signaling out reporters to go one by one, it's madness. It reminded me of the movie "Rookie of the Year" when the kid with the 100 mph fastball held a press conference to announce his signing. Newton says, "What I really want to do, I can't do. I want to scream. I'm ready to get the show on the road."
-- Jared Zwerling
---
8:23 -- We're through four picks and so far everything's been "textbook," as they say. A.J. Green was just selected by the Bengals, and the previous three (Cam Newton, Von Miller and Marcell Dareus) all were projected to go in those slots. But still a lot of excitement here so far -- fans chanting "We want foot-ball! We want foot-ball!" No big boos yet. (Of course, that's because the Jets and Giants haven't picked yet.) But one place there's no excitement? The press area. We have no wi-fi service. I've never live blogged off my iPhone before, but I guess I better get used to this, like Von Miller's grandma-sized glasses.
-- Jared Zwerling
---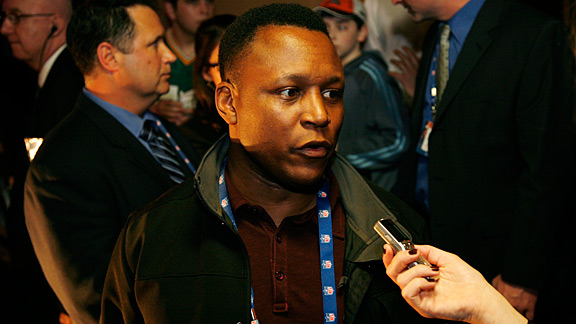 Julianne Varacchi/ESPN.com
8:13 -- Lions Hall of Fame running back Barry Sanders is in the building and espnW's Melissa Jacobs got a chance to speak with him.
Melissa Jacobs: What specifically brings you to the draft this year?
Barry Sanders: I love the hustle and bustle and being able to take part in it with my old team. I get to call their draft pick tomorrow night. I don't get to necessarily make the selection, but it's cool to be part of the process.
MJ: Well, make the real selection right now.
BS: We have to see who's left on the board. Obviously sleep on it. Run the numbers. Call a few grade school teachers. [Laughs.] It's like Christmas.
MJ: Is it like Christmas this year with all the off-the-field tension?
BS: Well, yeah. It's clearly a little different this year. But we're moving in the right direction. Everybody wants to get something done. I'm hopeful we'll get back to the table and reason will prevail. At this point I'm still not too worried about it.
MJ: If you were a draftee this year, would you still come?
BS: I would still come. What it means for the players getting drafted, it's such a part of that indoctrination. And I think it's great to still have this in the middle of what's going on. The bottom line is it's still a game with a lot of excitement and fun. It's really about the fans.
MJ: What are some of the non-NFL draft week activities you're up to these days?
BS: I do a lot of golf tournaments and other things for charity. I really just try to stay productive.
MJ: Thanks Barry. At least give me a position the Lions should be looking for.
BS: You can't go wrong up front.