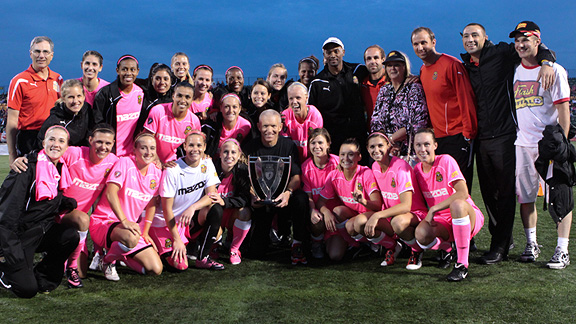 ISI Photos/Mark Novak The Western New York Flash, led by superstar Marta, made it to the WPS final as an expansion team.
5. Rude visitors
The spoils of regular-season victory are byes in the playoffs and home-field advantage. Each team had a strong home record of 7-1-1.
But in this series, that record might not matter. Each team inflicted the other's sole home loss.
Western New York was missing a handful of players when the teams met June 12 in Rochester, but Marta and Riley had not yet departed for World Cup duty. Philadelphia also was missing its World Cup players, but Henderson posted a shutout in place of Barnhart.
Independence forward Danesha Adams scored in the 90th minute for the lone goal in a game that featured more fouls -- 15 per team -- than either team usually commits.
The teams met only once with all of their World Cup players available, on May 29 in Philadelphia. Megan Rapinoe, later traded to magicJack, gave Philadelphia a 1-0 lead, but the Flash answered quickly with two goals and held on for the win. But even in this game, Philadelphia wasn't at full strength -- Boquete had not yet arrived from Spain.
Neither team was near full strength for their final meeting of the season on July 9 in Philadelphia. The Independence, who had fewer players occupied with the World Cup and didn't rely on them most of the season, took a 2-1 victory.