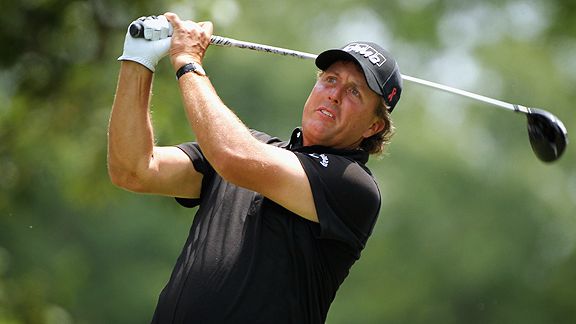 Scott Halleran/Getty ImagesIn 20 U.S. Open appearances, Phil Mickelson has nine top-10 finishes, including a record five runner-ups.
There is no other golf tournament quite like a U.S. Open.
The USGA's enduring explanation for its sometimes-strange tournament happenings is that it does not seek to embarrass the world's best players, only to identify them.
In the past 10 years, Tiger Woods, Retief Goosen and Jim Furyk have been among the winners. And, then, so has Michael Campbell.
That suggests there are no real answers to the questions going into this week's play at Congressional Country Club in Bethesda, Md., but here are some educated guesses.
Five storylines to watch
1. Bye-bye American sigh? All four major championships are in foreign hands. Four of the last six U.S. Open winners -- including reigning champ Graeme McDowell -- are non-Americans. The top three ranked players in the world are European.
No American is playing particularly lights-out right now. Bubba Watson, maybe the most promising American, recently said he has no interest in being the face of U.S. golf.
And here they are, playing in the nation's capital.
2. Now or never? Arguably, nobody has a better body of work in recent U.S. Opens than Phil Mickelson. In 20 appearances, he has nine top 10s, including a record five seconds.
That's good.
And very bad.
Five seconds. And no wins?
Now, teeing off Thursday and beginning play on his 41st birthday, there is one primary question: Is he destined or dated?
3. Final-round chokes: Sunday's final round at major championships have not been kind to recent 54-hole leaders.
At this year's Masters, Rory McIlroy went into the final 18 holes with a four-shot lead, and shot 80. At last year's PGA Championship, Nick Watney was up three shots going into the final day, only to shoot 81.
And before that, who does not remember Dustin Johnson at last year's U.S. Open at Pebble Beach, where a three-shot lead after 54 holes quickly went away on his way to shooting a closing 82?
4. Congressional veto? If it is the U.S. Open, then the host course is a storyline.
This will be the third time Congressional Country Club has been the site of the USGA's national championship and the first time in 14 years.
In 1964, Ken Venturi claimed the greatest win of his long career, literally surviving the final round that was played in 104 degree heat and 95 percent humidity.
In 1997, Ernie Els picked up his second of three major titles by edging Colin Montgomerie by one shot.
This week's Congressional will be unlike previous visits. The club has been closed for more than a year, undergoing significant redesign by "Open Doctor" Rees Jones.
Guaranteed to draw attention is a new 18th hole, a monster 521-yard par 4, with a pond guarding the green on the left side and back.
5. Old what's his name? Tiger Woods is not playing, citing a still balky left knee and Achilles' when he withdrew last week.
That does not mean the week will pass without the most well-known name in golf making some sort of impact. Good or bad.
"Well, the first thing that comes to my mind is that it opens up the field, especially when he's not playing well or not playing," two-time Open champ and ESPN analyst Curtis Strange said. "It opens up the field to a great number of players. You know, it will certainly have somewhat of an impact on the casual fan as was seen throughout the years. There is no way of getting around that.
"There is always a buzz when Tiger plays. There is no doubt. But there is always a buzz at the U.S. Open as well. You know, this is the biggest golf championship for an American. He will be missed."
Five players to watch
1. Luke Donald: Let's start with the fact he's the world's No. 1-ranked player. The 33-year-old Englishman, who attended school and played at Northwestern, took over the top spot after winning the European Tour's BMW PGA Championship and the WGC's World Match Play.
Donald, an accomplished artist, has yet to win a major championship, but finished fourth earlier this year in the Masters, his fifth top 10 in a major since 2005.
2. Steve Stricker: At No. 4, the popular Wisconsin native is America's top-ranked player. He is coming off a victory two weeks ago at Jack Nicklaus' Memorial tournament and has the solid iron game and steady putter that are typical keys to U.S. Open success.
3. Lee Westwood: The Englishman took over the world's No. 1 ranking early this year and has not played particularly well since. He's now at No. 3 and has not had a top-10 finish on the PGA Tour this year.
Still, the guy seems too good to go without a major. Along with finishing 11th at this year's Masters, he has four top-three finishes in majors since 2008.
4. Matt Kuchar: There is a lot to be said for consistency and Kuchar has made himself almost as dependable as gravity.
After two wins last year, this season he has delivered eight top 10s in 14 events, including a runner-up to Sticker at the Memorial.
He ranked 16th on the PGA Tour in driving accuracy, 12th in greens hit in regulation and second in scoring average.
All perfect for an Open setup.
5. Rory McIlroy: The 22-year-old from Northern Ireland certainly has the game to be among the week's favorites. He has won on the European Tour, on the PGA Tour and in last year's Ryder Cup. Last year he finished third in the British Open and the PGA Championship. And this year, he led the Masters after 54 holes.
One problem: He had a back-nine meltdown at Augusta National, shot 80 and finished 15th.
How he responds in the first major since that misery will be an especially interesting subplot for the week.
Five who could surprise
1. K.J. Choi: Actually, he's too good and too well established to be considered a surprise, but Korea's first male PGA Tour player is often overlooked. He's steady, straight and strong in the majors.
2. Bill Haas: Most of his recognition comes from being the son of Jay Haas. Pretty soon, Jay is going to be known as Bill's dad.
The younger Haas, 29, won twice last year and lost in a playoff this year at the Bob Hope. He has good length off the tee, solid iron play and experience beyond his years.
3. Ernie Els: It's hard to suggest a player just inducted into Golf's World Hall of Fame can be a surprise pick, but the three-time major champ's last Grand Slam win was the 2002 British Open.
Still, Els, 41, remains a consistent contender, and in 1997, the U.S. Open's last visit to Congressional, he finished 4-under and won his second USGA crown.
4. Nick Watney: Sneaky good. The 30-year-old Californian is having a strong year and stands on the edge of becoming one of America's elite players. He has the experience of being in a major championship from last year's PGA and should have learned from it. He has put in lots of work on his short game, which has fixed a past weakness.
5. Mark Wilson: Before asking "who?" remember that he has two wins this year. The blue-collar veteran is not blessed with length but hits his irons on a string and manages the golf course.