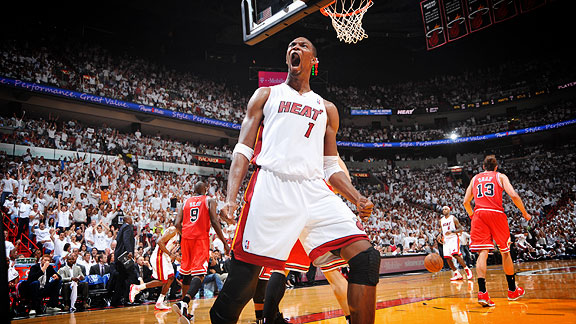 Jesse D. Garrabrant/NBAE/Getty ImagesIt was all Chris Bosh in Game 3. The Heat star scored 34 points to lead Miami to a 96-85 win over top-seeded Chicago.
NBA: It seems that Chris Bosh has had just about enough of being viewed as the Big Three's third wheel. LeBron James and Dwyane Wade were mere accessories in the Bosh show Sunday night. Bosh turned in 34 points and led the Miami Heat to a 96-85 victory over the top-seeded Chicago Bulls. After dropping the first game of the Eastern Conference finals to Chicago, the Heat have won the last two and now hold a 2-1 series lead. Miami is the only remaining playoff team that hasn't lost a home game this postseason.
The first conference final game on their home court is probably one Oklahoma City Thunder fans would rather forget. The Dallas Mavericks topped the Thunder 93-87 Saturday to take a 2-1 lead in the Western Conference finals, but the final score indicates a much closer game than what actually transpired. Despite Dirk Nowitzki turning in a mundane 18 points for the Mavs, Dallas never trailed in the game and led by as much as 23 in the second quarter.
NHL: In the blink of an eye, the Vancouver Canucks dealt a crushing blow the San Jose Sharks. The Canucks scored three goals in less than two minutes during the second period Sunday, en route to an eventual 4-2 victory over the Sharks. Vancouver now holds a 3-1 lead in the Western Conference finals. One more win and the Canucks are headed to the Stanley Cup finals.
At the end of the first period Saturday, the Boston Bruins held a solid 3-0 lead over the Tampa Bay Lightning. It looked as if this one was in the books, and the Bruins would be heading back to Boston with a comfortable 3-1 series lead. But in the category of "it's not over 'til it's over," Tampa Bay came storming back, scoring five unanswered goals -- three in a span of 3 minutes, 58 seconds during the second period -- to beat the Bruins 5-3 and tie the Eastern Conference finals at two games apiece.
136th Preakness: Shackleford looked like he was in no mood to be at Saturday's Preakness Stakes. Before the race, the chestnut colt had sweat pouring down his sides. He was horsing around, bucking and kicking until crewmen were finally able to get him into his starting gate. The end of the race went a little better for Shackleford, who won the 1 3/16-mile race in 1:56.47 at 12-1 odds. Ridden by jockey Jesus Castanon, the colt held off 2-1 favorite and Kentucky Derby winner, Animal Kingdom, by a half-length. For the 33rd-straight year, Thoroughbred racing will have no Triple Crown winner.