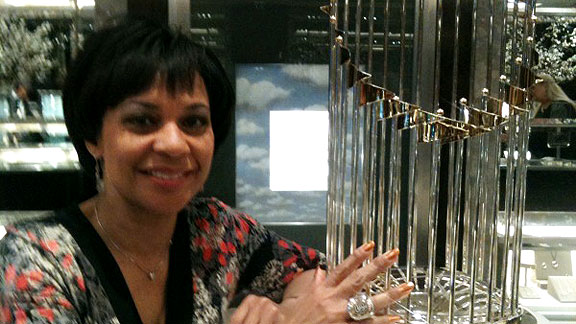 Courtesy of Renel Brooks-MoonRenel Brooks-Moon has been in the booth for two World Series, in 2002 and this past fall.
In the third inning of what had already been a pretty good night, San Francisco Giants owner Bill Neukom and team president Larry Baer showed up in the public address booth at AT&T Park.
Renel Brooks-Moon, the team's PA voice since 2000, when the Giants began playing in the new ballpark, had seen Neukom and Baer earlier that evening. She had served as emcee for the ceremony in which the San Francisco players and coaches received their World Series rings.
She was the one who announced the names of Bay Area sports legends who strolled through the center-field fence and walked across the outfield grass to participate in the ceremony. She got a little giddy when she said the name Reggie Jackson, there to represent the Oakland A's.
"The old Oakland girl in me thought that was pretty cool," Brooks-Moon said.
So, her night had already been made when Neukom and Baer arrived in her box -- which overlooks home plate, the Bay Bridge and the East Bay hills -- bearing a gift.
"They handed me a blue Tiffany box," Brooks-Moon said. "And then I had to hold it together, but I felt like openly weeping, but Lance Berkman was in the on-deck circle."
Brooks-Moon, who moonlights as one of the Bay Area's most popular morning radio personalities, holds the distinction of being Major League Baseball's only female public address announcer.
She was also the only one when she started 11 years ago.
"

People don't really leave this job; it doesn't come open very often. I feel like I carry a huge responsibility. And I hope it will create opportunities for other women. It's really my greatest hope.

"

-- Renel Brooks-Moon
"People don't really leave this job; it doesn't come open very often," Brooks-Moon said. "I feel like I carry a huge responsibility. And I hope it will create opportunities for other women. It's really my greatest hope."
In the meantime, Brooks-Moon will continue to show up at the ballpark, where her face and warm, throaty voice have become fixtures, as much a part of the experience of AT&T Park as the garlic fries.
Baer has said that when the team hired Brooks-Moon, she was never seen as a novelty.
"I think we thought that it would be great if she was there in Day 1 and in Day 1,000," Baer said.
Team broadcaster Mike Krukow has called Brooks-Moon "fantastic and classy."
"She can light up a crowd in 15 different ways," Krukow said.
Brooks-Moon said she spent years worrying about whether the fans and the players would accept her. She has never quite embraced the positive feedback and hasn't been able to dismiss the sting that comes with the negative.
"I'm feeling better about it, but I don't know that I'm 100 percent there," she said.
While she was listening to a spring training game before the start of the season, one of the talk-show hosts on the team's flagship station began a discussion about "the worst things about AT&T Park."
"And I knew somebody was going to call in and say me. I knew I was going to get thrown under the bus," Brooks-Moon said. "So I turned the radio off.
"Sure enough, about 15 minutes later, my mother and my brother are calling me, and they are both irate and upset because somebody called to say how much I s---. And it takes just one person …"
Brooks-Moon has tried to turn the occasional criticism into motivation to get better at her job.
She has been behind the microphone for two World Series now: the 2002 Series against the Angels, which the Giants lost, and the Series this past fall that brought the franchise its first World Championship since 1954, also the first since the team came to San Francisco.
"I really don't remember a lot of it, it was such an out-of-body experience," Brooks-Moon said. "For some reason, it felt so different from 2002. The team was different; I felt more settled in and part of the family.
"But in another way, I was very nervous. I put a lot of pressure on myself. It was unbelievable, and I tried to stay present in it."
The team won the title in Texas, away from its home park, but Brooks-Moon had her own car in the victory parade.
If she needs to remember that the whole experience actually happened, perhaps she should check inside that blue Tiffany box.
"It's a big, old hunking ring, and I will wear it with pride -- at special events only," Brooks-Moon said. "Otherwise, that bad boy is locked up."