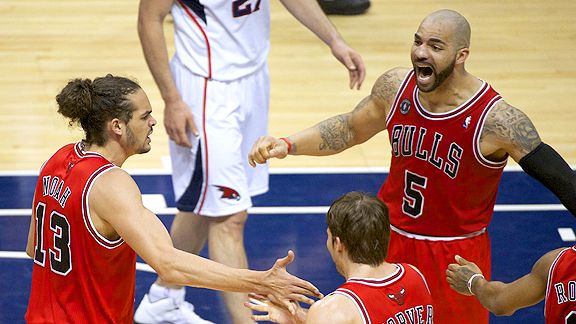 Dale Zanine/US PresswireThe Bulls celebrate after cruising past the Hawks 93-73 on Thursday night to wrap up the East semifinals.
NBA: The last time the Chicago Bulls played in a conference final, a couple of guys named Michael Jordan and Scottie Pippen were on the team. That was 1998. After shellacking the Atlanta Hawks 93-73, the Bulls closed out their second-round series in six games and are headed to the Eastern Conference finals. Typical show-stopper Derrick Rose put up a solid 19-point performance but was topped by Carlos Boozer, who led the team with 23 points. Next up, the Bulls will meet the Miami Heat with a spot in the NBA Finals on the line.
NHL: The Detroit Red Wings put up one heck of a fight, winning three straight games over the San Jose Sharks after losing the first three in their Western Conference semifinal series. Good but not good enough. The Red Wings just couldn't make it four in a row. The Sharks were able to knock off Detroit on their fourth try, winning the decisive seventh game 3-2 to advance to the conference finals.
Golf: When Tiger Woods pictured his comeback, his performance at The Players Championship certainly wasn't what he had in mind. Known for fighting through pain, Woods had to withdraw after nine holes due to knee and Achilles injuries. Adding to the pain, he shot a 6-over 42 on Thursday, including a really ugly triple-bogey 7 on the fourth hole. It's the second straight year he's had to withdraw from the event (last year, a neck injury forced him to call it quits) -- and only the fourth time in his professional career that he has pulled out of a tournament after starting it. Where have all the good times gone?