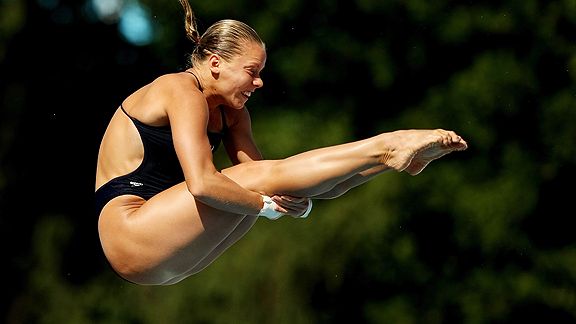 Al Bello/Getty ImagesBrittany Viola has overcome bulimia, two ankle surgeries and the long layoffs that came with them to become one of the U.S.'s most promising Olympic diving hopefuls for the 2012 London Olympics.
For most Olympic hopefuls, there is a saga of overcoming injuries and struggles to reach the top.
American diver Brittany Viola's tale is more dramatic than most, as she emerges from a battle with bulimia, two ankle surgeries and a lengthy layoff to stay on track toward qualifying for the 2012 Summer Olympics in London.
Viola, about to graduate from the University of Miami in Florida, won her second NCAA platform title and scored her first victory at Diving USA's winter national championships. "I've blown myself away," said Viola, who specializes in the 10-meter platform.
Later this week, she will have an opportunity to blow away even more fans as she tests her somersaults and twists against top international competition at the AT&T USA Diving Grand Prix at the Swimming Hall of Fame in Fort Lauderdale, Fla.
Results from the meet will help determine whether Viola earns a spot in the world championships in Shanghai this July, another important meet ahead of the London Games.
A natural athlete, Viola, 24, quickly excelled at diving from the moment she started, in her early teens. By the time she was 16, she'd been invited to train with Olympic gold medalist Laura Wilkinson, with whom she also would be competing in synchronized diving.
Viola was young and impressionable. She wanted to be just like Wilkinson, who was 10 years older, and the other divers there and started comparing her body to theirs. Bulimia soon developed from that unreasonable self-scrutiny. "What I didn't understand is that every body is unique," she said. "I have a much better relationship with myself and food now."
Viola sought help for her eating disorder and spent 40 days at an inpatient facility before going to college.
"That was a very hard adjustment to go from that kind of atmosphere to college where you have to balance sport, life, academics," she said. "I had never made myself throw up, but I was using laxatives and exercise as a way to purge. It was very difficult to move through and move out of."
Even so, life went well at Miami. She chose the school for the opportunity to work with coach Randy Ableman and thrived under his guidance. As a sophomore in 2008, she won her first NCAA platform title.
Then came another setback. A ligament injury to her right ankle required surgery, then a second, cleanup surgery. She was off the platform from July 2009 to January 2011. In those 18 months, she learned to live a more ordinary student existence. "I remember being hit in the face with this piece of Scripture, 'Be still and know that I am God,' and I remember thinking, 'Be still, really? I've never been still in my life.' It taught me how much more I can do besides diving," Viola said. Throughout that time, she also wondered whether she wanted to return to diving. Soul-searching led to the answer: Yes.
It's no surprise that she decided to persevere. She was born into a family with a sporting way of life.
The year she was born -- 1987 -- her father, Frank, a Minnesota Twins starting pitcher, was the MVP of the team's World Series win. Her mother, Kathy, ran track in college. Older brother Frankie played minor league ball, and younger sister Kaley plays collegiate volleyball.
Her father believes Brittany has now found a perfect balance between sports and who she is as a person.
"I think what her biggest conflict was, I think she was doing it all for the wrong reasons," he said. "She was doing it for everybody else except herself. Once she realized ... she truly did love it, that's when everything changed in her life."
Brittany didn't know what to expect at the recent NCAA meet, given that she had been away from diving and the competitive pressure for so long. Her coach, Ableman, wanted her to do her best, with no expectations. "Our goal was just to participate," he said. "For her to compete at the NCAAs and nationals as she did was a surprise. But I wasn't totally shocked because she's such a great competitor and has a lot of inner confidence."
Steve Foley, USA Diving's high performance director, is hopeful Viola will make the 2012 Olympic team. She was an alternate for the 2004 and 2008 Games. He thinks she needs to add a dive with a harder degree of difficulty to her lineup -- she does a 2½-somersault pike, while the world's best are doing the dive with 3½ somersaults. "She has terrific form; her body line and her toe point is second to none," Foley said. "That's important because that's the last thing the judges see before she enters the water."
Viola now knows that whether she makes it to the Olympics or not, whether she wins a medal or not, she'll end up in a good place. "I'm OK being myself," she said. "I am unique, I am beautiful and I am strong."