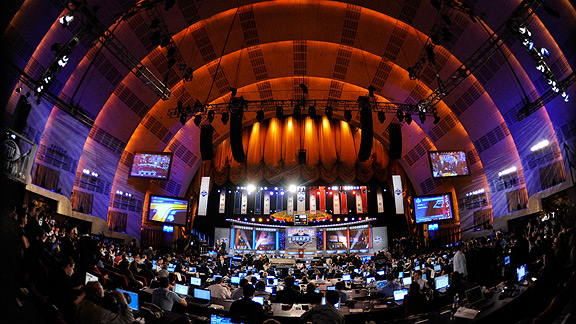 Howard Smith/US Presswire
10:17 -- For a second, I thought the last pick of the third round was a misspelling. Didn't defensive tackle Sione Fua already play for the Jets? Well, it turns out, I was a little off. New York's DT is actually Sione Pouha. The guy who was drafted just so happened to be another Sione, but with the last name Fua, a defensive tackle from Stanford. As my mind plays tricks on me, my colleague Jane McManus tweets, "Sione Fua? Jets totally should have drafted him just for the ensuing hilarity when he played beside Sione Pouha." And with that, at least Day 2 of the NFL draft ends with a laugh. Much needed after four and a half hours of watching the clock.
-- Jared Zwerling
---
10:03 -- Just when the evening feels to be winding down, the Jets have the fourth to last pick of the third round. Fans in the upper level start "J-E-T-S Jets Jets Jets" chants and those down low in the orchestra section connect with them, turning around and acknowledging them with the same chants back -- as if they both just found the perfect romance. Then they fire up "We want foot-ball! We want foot-ball!" chants. And for the 94th pick? Defensive tackle Kenrick Ellis, which makes one media member in front of me pump his fist like Tiger Woods does after he makes a huge putt. Even Jets fans are excited and start chanting "Ken-rick Ellis! Ken-rick Ellis!"
-- Jared Zwerling
---
9:54 -- A realization, which I can't believe I didn't bring up earlier in my draft coverage, but this is something that ought to be done at next year's draft for the media and fans in the house: Broadcast as many interviews as possible with those players not in the green room. ESPN airs some of them on TV, but why not show them in Radio City? You could even Skype the rookies into Radio City, especially to make them feel like they're part of the special evening. And speaking of social media, it would also be really cool to have NFL interns managing the rookies' Twitter feeds and highlighting what they're tweeting for those in attendance. There could be a Twitter scroll screen near the front of the stage, where everyone could see. Twitter is really the best way to showcase the immediacy of the rookies' emotions.
-- Jared Zwerling
---
9:34 -- The USA is "drafted" and everyone feels like a winner. Roger Goodell announces members of the Army, Navy, Marines and Coast Guard to come on stage, and they're saluted with "U-S-A! U-S-A!" chants from the fans. Goodell gives one sergeant, a longtime Chargers fan, the opportunity to announce San Diego's 82nd pick, which is Vincent Brown of San Diego State University. SDU has another reason to celebrate this year. In March, their men's basketball team finished with the best regular season in school history (32-2) and earned a No. 2 seed in the NCAA Tournament. They ended up losing to eventual champion Connecticut in the Sweet Sixteen.
-- Jared Zwerling
---
9:15 -- Remember when Miami was The U and not The Boo Hoo? In the 2003 draft, the Hurricanes had four players represented in the first round (Andre Johnson, Jerome McDougle, Willis McGahee and William Joseph). This year? None. They did have two in the second round, though (offensive lineman Orlando Franklin at No. 46 to the Broncos and defensive back Brandon Harris at No. 60 to the Texans). And wide receiver Leonard Hankerson was just drafted in the third round (pick 79) by the Redskins. But the new U is the Crimson Tide. This year, Alabama had the most picks of any college in the first round with four -- a first for them in the common draft era. Junior Marcell Dareus was taken by the Buffalo Bills with the No. 3 overall pick, while junior wide receiver Julio Jones went to the Atlanta Falcons at No. 6. Senior offensive lineman James Carpenter went No. 25 to the Seattle Seahawks, and junior running back Mark Ingram was selected with the 28th pick of the first round by the New Orleans Saints.
-- Jared Zwerling
---
9:00 -- I was just thinking, You know what, nothing really shocking has happened yet -- like a "wow" moment. Maybe seeing Da'Quan Bowers still on the board at the end of the first round was something. But this is what I'm talking about: Ron Artest making the call live on TV that after the Lakers season, he'd be pursuing an NFL career. LeBron James wouldn't be believable, but Artest has said before he really wants a shot at stepping onto the gridiron. There's no question he's thick and built like a weak side linebacker at 6'7", 260. I think it's time for more athletes, considering their increasing size and athleticism, to play two pro sports in a given year. When are we going to see the next Bo Jackson? Don't you agree? That would make for the ultimate sports reality TV show.
-- Jared Zwerling
---
8:40 -- The last pick of the second round is made, but it feels nothing like the last pick. Wide receiver Randall Cobb is joined on the stage with more than a dozen family and friends, posing for group photos, all wearing yellow hats. While he was being interviewed by an NFL Network reporter, you could only smile when Cobb said, "I waited a long time." How long? Nearly six and a half hours of draft time since Round 1 started. Cobb was the fourth wide receiver taken in the second round, the most out of any position. Running back was just as popular four picks. What hasn't been popular so far through the first two rounds? Tight end. True, there were two were taken in the second round, but that's been it. In fact, this year marks the first time since 1999 that no tight end was drafted in the first round.
-- Jared Zwerling
---
8:16 -- Sometimes event planners over-think the entertainment of an event, and it becomes an elaborate mess. But this draft could use a little more umph in-between picks. I find myself sometimes glancing a little too much at the back of reporters' heads and wondering if their hairstyle corresponds to someone I might know. I also occasionally look to see what website they're on, and there's really no difference. Everyone is on Twitter. Feeds and more feeds. Perhaps they're obsessing over if they're gaining or losing a follower. But back to the lack of entertainment, which gets me thinking one thing, and one thing only: Where are the cheerleaders for each team? Where are the dance routines on stage? Last I checked, Radio City is a performance hall. Is there any more simple but effective way to engage an audience than having cheerleaders perform? And when I say audience, I'm referring to the media. Who cares about the fans, right?
-- Jared Zwerling
---
7:56 -- You can't go through your day without hearing an Usher song, reading something about Charlie Sheen, sending at least 50 text messages, checking your Facebook at least 10 times and, of course, tweeting. Well, you can't go through any NFL draft without hearing "Quan" or "Quawn" in a rookie's name. Just now, defensive back Jaiquawn Jarrett was taken at No. 54. And three picks earlier, defensive end Da'Quan Bowers was drafted by the Buccaneers. There aren't any other "Quans" or "Quawns" projected in the second and third rounds, but you never know. Pay attention to the Qs, not only from the journalists covering the draft.
-- Jared Zwerling
---
7:45 -- After New York makes their selection at No. 52, 1989's "New York Minute" by Don Henley plays through the stage speakers. The same year that song was released was when the Giants pick, defensive tackle Marvin Austin, was born. Being that I'm an 80s kid, I'd like to take this time to pay tribute to some of the last 1989ers that will ever be drafted into the NFL.
-- Jared Zwerling
---
7:36 -- So far, defensive end Da'Quan Bowers is the Prince Amukamara of the evening. Yesterday the Prince, who was projected to be a top pick, slipped to No. 19. Bowers, who was slated to go anywhere from No. 33 to 40, got snatched up by Tampa Bay at No. 51. After ex-Buccaneer John Lynch, arguably the greatest hardest-hitting white dude to ever play in the secondary, announced the pick, he said "Our D-Line just got tougher."
-- Jared Zwerling
---
7:20 -- While Marshall Faulk is announcing the Rams 47th pick (tight end Lance Kendricks), one of his biggest fans is downstairs in Radio City addressing the media. That would be the Cardinals No. 38 pick, running back Ryan Williams, who idolized Faulk and Walter Payton growing up. Williams' playing philosophy is this: "I play 10 feet tall." Why? After someone once told him he's small (he is 5'9"), his mentality was that if he told himself that he was that tall, he'd be fine. "No one out there [on the field] is 10 feet tall," Williams says, "so I'm the tallest one out there." For everyone who was watching the NFL draft in person or on TV saw something new from Williams when he was chosen. He stepped on stage crying. "It came pouring out," Williams says. "I don't like people seeing me cry, but today's an excuse." As we speak, Williams is trying to get Beanie Wells' number. He's ready to go to work, and that's definitely something to be happy about.
-- Jared Zwerling
---
7:05 -- One of the all-time greats, running back Barry Sanders, announces the Lions' 44th pick for his former team. But it's not a running back. It's Boise State wide receiver Titus Young, who was projected to go even lower. So what's Sanders' No. 1 advice to the rookie? "Be patient, your day will come." Sanders says getting drafted is the one of those things he'll remember for the rest of his life. "It was a great day for me and my family," Sanders says. And speaking of his family, Sanders' kid is not too shabby out of the backfield. In fact, the famous father could be on stage at Radio City with his son, Barry Jr., in a few years. Jr., who's a junior high school halfback at Heritage Hall in Oklahoma City, is being recruited by top Division I colleges. I bet you're about to YouTube his highlights, aren't ya?
-- Jared Zwerling
---
6:40 -- Former Titan Jevon Kearse, who announced UCLA linebacker Akeem Ayers as the Titans No. 39 pick, says that although he hasn't played since 2009, don't count him out just yet. "I haven't turned in my [retirement] papers yet. We'll see how I feel in the coming weeks." Looking back on his playing days, he said he "hated going against" former Jacksonville Jaguar offensive tackle Tony Boselli. "He was so big and athletic," Kearse said of Boselli, who stood 6'7" and weighed 324 pounds. That's still saying something considering Kearse at one point was feared by everyone around the league, having one of the most ridiculous body definitions (like Terrell Owens has at his receiver position).
-- Jared Zwerling
---
6:27 -- The Browns select defensive end Jabaal Sheard from Pittsburgh. He's now the 13th defensive lineman taken in the draft. In fact, the twelve taken in the first round were the most ever in the common draft era (since 1967). At the draft day media session this morning, I asked No. 24 pick Cameron Jordan's father, Steve, who played in the NFL for 12 years, how he thought the defensive end position had evolved through the years. "The sheer size and athleticism," Jordan said. "Back in the day you didn't have these guys who are 300 pounds and can run fast."
-- Jared Zwerling
---
6:17 -- After two players were chosen at No. 33 and 34 not suggested by draft analysts, there were no surprises at No. 35 as the Benglas select TCU quarterback Andy Dalton. That's because the future of Carson Palmer is more up in the air than a balloon. He says he'll retire if he's not traded but the Bengals don't appear to be budging from that. But the real issue is that Palmer has not looked like the same player since battling injuries in recent years. So it appears that Dalton (by the way, no relation to actor Timothy Dalton) was the safe bet.
-- Jared Zwerling
---
6:10 -- If I said the word "Ras-I" to you, what would you think? Probably the first version of a shooter-up video game? Or perhaps a complicated computer code for something you'll never really understand? Well, it turns out Ras-I is the first name of the Patriots' first pick of the second round (No. 33). His last name is Dowling, and he's exactly who the Patriots wanted. He was gaining a lot of draft momentum at Virginia, but that stalled due to injury. Some say he could've been a late first round pick.
-- Jared Zwerling
---
6:00 -- An NFL Network host announces the start of Round 2 and how "we're now live on ESPN." He also says this will be the first draft where a former player for each team will announce their draft pick. And with that comes, of course, Van Halen's "Right Now." Is there another song used more than this one to hype up a crowd during an intro? The best, though, became famous at Chicago Bulls games during the Michael Jordan days. That would be Alan Parsons Project's "Sirius" (Eye in the Sky). Nothing comes close to that one.
-- Jared Zwerling
---
5:56 -- Finally! We're live for Round 2 of the NFL draft at New York City's Radio City Music Hall and ... the Internet is working! We're four minutes to go until the clock starts for the Patriots, and speaking of the Pats, quarterback Tom Brady was in town today at Chelsea Piers recreation center to speak with a group of select fans courtesy of the sports-performance apparel company UnderArmour. Brady addressed Jets coach Rex Ryan's assertion that he is the most hated man in the country. "As long as he hates me, I'm cool," Brady said. "He's the leader of that team and the players take after their coach. Look, they've had successful postseasons, getting to the AFC championship game. So I'm sure we'll be prepared to play them when we do." And prepared they will. The Patriots have five second- and third-round picks tonight, including a league-high three picks in the second (No. 33, No. 56 and No. 60). In the first round, New England drafted 6'8" offensive lineman Nate Solder from Colorado at No. 17.
-- Jared Zwerling