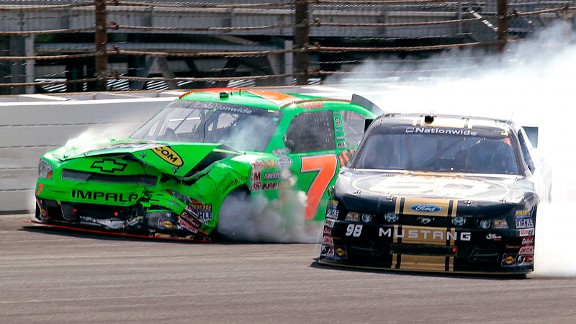 AP Photo/Bill FrielDanica Patrick bumped Reed Sorenson from behind, and a couple of hard smacks later, they both were out of the race.
Danica Patrick now has more unfinished business at Indianapolis Motor Speedway.
Making her return to the fabled track that was the backdrop for her launch into mainstream stardom, Patrick caused a collision with Reed Sorenson on Lap 39 of 100 on Saturday that eliminated her from NASCAR's first Nationwide Series race at the home of the Indianapolis 500 and Sunday's Sprint Cup Brickyard 400.
Patrick was scored in 16th position -- her best of the race as leaders made green-flag pit stops -- and had relayed over team radio her inability to pass Sorenson when she bumped him from behind racing through Turn 1. The left front tire of Sorenson's No. 98 Ford dipped down onto the grass, squirting him back onto the track and into Patrick, who had moved toward the middle and away from the low line. Patrick's No. 7 Chevrolet smacked the outside wall, rendering it inoperable and culminating a day of frustration.
Patrick slammed and wrenched on the steering wheel after finding her in-car controls unresponsive, then pulled down her visor for what passes for privacy with in-car cameras documenting every reaction.
Just later, crew chief Tony Eury Jr. said over team radio: "We're putting [the car] in the truck. We do stupid stuff like that, we don't go back out."
Patrick said in a postrace interview that she was unsure whether she had hit Sorenson's car.
"We were just trying to pick 'em off one by one," she said. "I don't know what happened. I got into the center of the corner. I got pretty close and I might have tapped him. I'm not sure. He was pretty ... like slowing it down quite a bit, so I just didn't mean to take him out. I'm sorry if I did anything. I was trying to go around him, and when I went around him, I think he hooked right, maybe, or something like that. It's just a bummer. There was plenty of racing left to try and work with."
Patrick finished 35th with her fifth DNF in 19 races this season. She unofficially fell from ninth to 10th in driver points, 253 behind leader Elliott Sadler and eight behind ninth-place Brian Scott.
Eury had attempted to spur Patrick on earlier by emphasizing how much slower her lap times were than in practices, saying, "Make something happen."
Patrick was told to "work [Sorenson] over" by a spotter just before the incident. She also had asked and was informed that Sorenson was to pit on the next lap, ceding that position to her.
"I thought I had saved it," Sorenson said. "It's hard to save a car at Indy when you get bumped going into Turn 1. I don't know if she got in too hot or what the deal was."
Patrick had started 20th and raced within a few slots of that position most of the race as she attempted to manage what she deemed a tight race car. Her return to IMS was one of the key storylines to the Nationwide Series debut there -- including a pit road interview and hot laps with Katie Couric -- spurred by her IndyCar success at the 103-year-old, 2.5-mile speedway.
As a rookie in 2005, Patrick became the first female to lead laps in the Indianapolis 500, and set gender records by starting and finishing fourth. She had six top-10s in her seven starts in the 500, including a best of third in 2009. She's admitted a desire to perhaps contest open wheel's showpiece again, citing her "unfinished business" there, even as she prepares to embark on a first full Sprint Cup season in 2013. After Saturday, whichever race car brings her back to the fabled yard of bricks, she will have business aplenty.