Five years ago, when Danica Patrick was a first-year member of the gang of rogues who comprised Andretti Autosport's driver lineup, teammate Tony Kanaan vowed to shave her head after her first IndyCar victory.
The sanctioning body's media relations department mocked up a somewhat disturbing gallery of prospective bald Patrick mug shots, and former Richmond International Raceway president Doug Fritz vowed to accompany Patrick to the shears if she claimed victory at his racetrack. The opportunistic bit of carnival-barking was worth perhaps a few ticket sales in the days before the race, but Patrick left with a sixth-place finish and a full head of hair. Kanaan didn't make good on his vow when Patrick finally won a year later at Motegi, Japan.
[+] Enlarge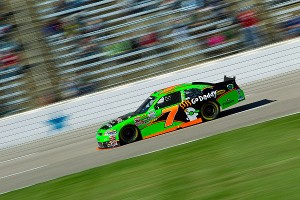 Cal Sport Media/AP ImagesDanica Patrick was 18th in her first Nationwide race at Richmond last year; she almost always improves the second time around.
A half-decade later, Patrick visits the .75-mile Richmond track in her first full-time season in the NASCAR Nationwide Series, winless in stock cars but improving after finishing eighth, second-best in her career, at Texas Motor Speedway two weeks ago. Although her experiences in an open-wheel car are likely to translate little to stock cars, she enters the Friday night race with higher expectations because of her penchant for improving on a second trip to a track. Of the eight NASCAR tracks Patrick has attempted multiple times, she has improved her result on the second trip seven times. She was 18th in her first Nationwide race at Richmond last season.
"I always liked this track when we came here in IndyCar," said Patrick, who had an average finish of eighth at Richmond in five open-wheel races. "It was always one of my favorites. To come here in a stock car, it's probably almost even more fun. There's a lot that happens on a short track in these cars. You can definitely use more than just that bottom lane around here, so you can really manipulate your car given that you're using the brakes. The other car I was in, you don't use the brakes."
Patrick, who moved from 17th to 11th in Nationwide points after the Texas result, practiced inside the top 10 during the one prerace session in the condensed Friday schedule, while concentrating on qualifying runs later in the session.
"I think part of it is just [crew chief] Tony [Eury Jr.] and I learning each other, and him learning what characteristics I like in the car, what's important," she said. "This time we just come with a variation of what we ended up with last year when we ran here, and that is a very good start when you have very little time on the track."
The season-best finish at Texas fulfilled Eury's fervent hopes of a rapid positive result after a 35th-place finish at California, where Patrick ran over a piece of metal and "cooked the engine," the crew chief said. Forward momentum, he said, would serve as a buffer to any stress entering her Nationwide/Cup dual weekend May 11-12 at Darlington, S.C. To that end, Patrick also tested a Sprint Cup car at Nashville Superspeedway this week.
"I want her to have some positive stuff happen [at Texas] and Richmond," Eury said before the Texas race. "My biggest fear is we roll into Darlington, which is a place she's never been, and we have to learn that track and set it up right for her, and oh by the way, we're going to run a Cup car the same weekend."
The stress of her second Sprint Cup race weekend would be mitigated by her not having to qualify the No. 10 Chevrolet into the event. The car -- to be driven 26 times this season by David Reutimann in the Stewart-Haas collaboration with Tommy Baldwin Racing -- is currently 34th in owner points with two races remaining until Darlington. Cars in the top 35 in owners points are assured entry.
In a season in which Patrick already has tempered Nationwide expectations because of early woes she avoided last year, immediate productivity is crucial, Eury said.
"The sad thing is, these first 10 races will probably set the precedent of the whole season as far as how we come out of the points," he said. "Last year, she ran the first four races and everything went right for us. We had decent finishes at Daytona, went to Vegas, finished fourth, went into Bristol fourth in points. Then this year we come in and we're going to actually try and compete for the title, and we've had something happen every week. You try to put yourself in a position to where you don't have problems, but naturally, when you're running over pieces of metal and in accidents not of your making, those things happen, and you have to dig a little harder."