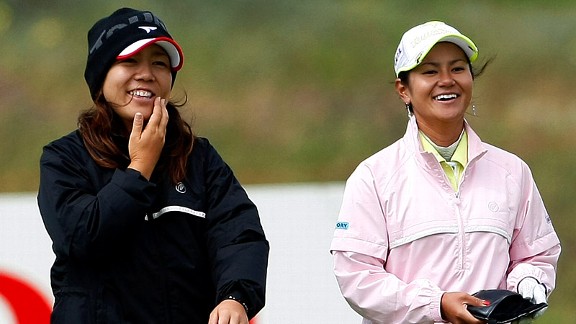 AP Photo/Tim HalesAi, right, and Mika Miyazato have the same name and play the same game, but, no, they aren't related.
Two of the most recognized women golfers in Japan are Ai and Mika Miyazato. Both are from Okinawa. Ai is 26 and has seven LPGA wins. Mika, 22, has one victory in Japan. Both are ranked among the world's top 25, having come up through the Japan LPGA.
And they are not related.
"Miyazato is pretty common name in Okinawa," Ai said during pre-tournament interviews. "But we are friends. I know her since she was like 10 years old. We know each other long time."
This week, however, the two will be part of one big happy family.
The LPGA is in Shima-shi, Mie, Japan to wrap up a four-tournament swing through Asia with the Mizuno Classic.
It's the LPGA's one stop a year in the golf-loving nation and the Miyazatos will be supported as if they are everybody's little sisters.
"I am very excited to be playing in Japan," Mika told reporters. "This is the LPGA's only tournament in Japan, so I am happy we are here."
The 54-hole event tees off Friday featuring a field of 78 players from the LPGA and Japan LPGA.
And the Miyazato girls from Okinawa.
"Everybody thinks we're sisters," Mika said. "I think that way everybody could remember me, because Ai is playing great. ... But we're not related."
There is, however, kinship.
As an amateur in 2003, Ai won a Japan LPGA event while still attending high school. After winning LPGA qualifying school in 2008, she rose to No. 1 briefly last year and now ranks No. 8 in the world rankings with a win at this year's Evian Masters.
"Well, I did have expectations coming into this year since I had a great season last year," Ai told reporters. "But there was the earthquake earlier this year, so that had a bit of an effect on me, both on- and off- the golf course.
"But [in June] I started feeling very good about my game, and I was able to win at Evian. So right now I feel very relaxed."
Mika, meanwhile, won the 2004 Japan Amateur Women's Championship at the age of 14, and turned pro four years later. Her first professional victory came at the Japan Women's Open in 2010. That same year on the LPGA, she recorded two third-place results and was 17th on the money list with more than $600,000 in earnings. At this year's U.S. Women's Open, she held the 36-hole lead before finishing fifth. She's now No. 24 in the world rankings.
"After the second day, I was at the top, so that gave me a lot of confidence, but I didn't have such a good third round," Mika said of the U.S. Open experience. "Still, I took away a lot from that week at the Open. Last year, I didn't play so good in the major tournaments. My coach said I should treat the majors like other tournaments, so that is what I tried to do."
This week, too.
"No pressure," Mika said. "I don't get to play in Japan very often. I came home to play, so it's good."
Defending champ
South Korea's Jiyai Shin, with six top-10 finishes this season, including two runners-up, will be back to defend the Mizuno Classic title she won last year by two shots over Yani Tseng.
"It feels like I'm back home," Shin said. "I can play good here. When I come back here, I only have good memories. I have lots of confidence here, so I can't wait for the week to begin."
Shin would like to find some of her old form from last year. Her game has suffered this year from a back injury and swing change. She's hoping those challenges are finally over.
"I have played a little bit up and down and have not won this year," she said this week. "I've had some injuries. My lower back has had pain since two months ago. It is [inflammation] in my discs. I went to an Asian hospital and I don't have to have surgery. I am taking medicine and stretching."
Shin admits probably being responsible for the pain that sidelined her for all of September.
"At the beginning of the season this year, I changed a lot of things,'' she said. "I changed my training, my coach and my caddie. ... I changed my swing and lost my tempo. My new swing was different. I gained about 15 more yards in distance, but sometimes when I hit it, the ball pushed or pulled. I needed more consistency. So I tried to get back to my old swing. It's much better this week, with better timing."
Rookie race
With three events remaining on the LPGA schedule, South Korea's Hee Kyung Seo is leading the rookie points chase with 560 points. Tiffany Joh of California is second with 267, Christel Boeljon of The Netherlands is third with 244 and Ryann O'Toole of California is fourth with 224.
Stat check
An interesting statistical note from the LPGA: Although Tseng leads a majority of individual categories and already has clinched player of the year honors, one of her more eye-catching feats is driving distance. The world No. 1's 267.9-yard average is more than three full feet longer than Maria Hjorth's 266.5.
During the past 20 years, the distance leader rarely has been one of the tour's dominant players. The only exceptions were Laura Davies in 1994, Annika Sorenstam in 2003 and Lorena Ochoa in 2008, who led the money list and driving distance.
Since joining the LPGA Tour in 2008, Tseng has been a consistent contender in the driving distance category. That includes a 266.1-yard average in 2008, which ranked sixth; 269.2 in 2009, which was third and 262.3 last year, which was 10th.
By the numbers
• 39: Years the Mizuno Classic will have been played.
• 3: Consecutive South Korean tournament winners.
• 17: Consecutive international tournament champs.
• 11: Wins worldwide in 2011 by Tseng, who won last week in China. She has seven LPGA titles this year.
• 5: Tournament record five straight wins by Sorenstam (2001-05).