Beverly Kearney's storied career spans more than three decades -- first as an athlete and contender at the Olympic trials, then as an elite track and field coach at the University of Texas, where she began coaching almost 20 years ago, in 1993.
During her time at Texas, her Longhorn teams have won six NCAA championships, earning Kearney an induction into the U.S. Track & Field and Cross Country Coaches Association Hall of Fame in 2007. Her athletes have also succeeded outside the collegiate system while under Kearney's guidance: She counts nine Olympic medals among her team members, including gold medalists Sanya Richards Ross (2004 Games in Athens) and Deon Hemmings ('96 in Atlanta).
But along with all her accolades, Kearney is equally well known for a horrific auto accident in December 2002 that nearly killed her and took the lives of two other passengers on their way to Disney World. She was thrown 50 feet from the vehicle, suffering severe spinal-cord and head trauma that left her paralyzed.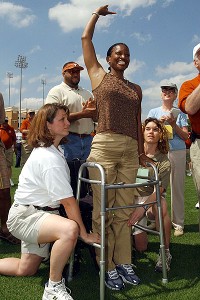 Kirby Lee/WireImageAfter an automobile accident left her paralyzed, Kearney vowed to walk again. It took years of agonizing therapy, but she reached her goal.
"The doctors didn't think I was going to walk again," she said. "But I just knew."
Through months, then years, of agonizing physical therapy, Kearney slowly pieced her body back together. True to her hospital-bed declaration, Kearney can walk.
"People were so surprised by my recovery," Kearney said. "To me, there was nothing surprising about it. What were my options? To live the rest of my life in a wheelchair? To never use my legs again? Those weren't options for me. So I fought back hard."
Fighting spirit
Kearney is no stranger to digging deep to get what she wants. Growing up in Florida, Kearney was one of seven children in a household where fathers came and went, and her mother battled alcoholism. When she was 17, her mother unexpectedly died in her sleep, leaving Kearney essentially homeless. College was her ticket to food and a place to sleep, and an athletic scholarship to Auburn University gave her both.
"My goals were set early," Kearney said. "I wanted to be the best student in my class. I wanted to go to college. I wanted to be a national champion. I wanted to earn $1,000 a month, which was what I figured I'd need in order to live on my own and support myself."
As she checked the boxes on her list, Kearney says she was guided by a larger desire. "I wanted to be somebody," she said. "My whole life, I've studied biographies of great people. More than wanting to be a great athlete or great coach, I wanted to be a great person. That's what inspires me."
Now in her mid-50s, Kearney still sets goals for herself. From her hospital bed, she wanted to sit, then she wanted to stand, move with a cane, walk on her own. She uses other people's accomplishments as motivation.
"I've never looked at what someone else did and disliked them for their achievement," she said. "No, I look at what they did and say, 'OK, so it's possible.'"
Master motivator
When it comes to setting goals with her athletes, however, Kearney is cautious. If you start the season with expectations for what you think someone can achieve, she points out, you create a high-pressure situation that doesn't necessarily bring out the best in the athlete.
"If you set them up to focus only on these certain goals, there is a lot of frustration for them if they don't meet your expectations," she said.
Instead, Kearney adopts a wait-and-see attitude: Let's do some training first, she suggests, so I can get a sense of where you're at with your running.
"So many people do the visual thing with their athletes," said Kearney, who takes a more unorthodox approach. "For me, I can't just look at you and know how good you are. I've got to feel you. I need to see your determination. I coach the person first, the event second."
Talent is one thing, drive another. If you ask Kearney, it's the latter that counts the most.
"Some of the best young athletes are hanging out at the playground," she said. "Some of the most intelligent adults are in a prison cell somewhere. Your talent means nothing without the ability to apply it. A talented athlete without that inner drive is never going to make it."
Good news for Longhorn fans -- Kearney's bench this season runs deep with both skill and drive. It's an Olympic year, and several of her runners will be testing the waters at the U.S. trials in June. It is, Kearney said, the opportunity of a lifetime.
"The Olympic trials is about the most fun you'll ever have," she said. "It's about trying to be the best there is, in that day, at that moment, with a four-year gap until you might get a shot at trying it again."
If you prepare right, Kearney believes, there is no pressure, only the biggest stage you could hope for to show what you've got.
The preparation, on the other hand, can break an athlete. The commitment and focus it takes to be Olympic caliber will be more intense than anything a young runner has ever experienced, Kearney admitted.
"Your passion for your sport has to be more important than any other sacrifice you will be called on to make during your preparation," she said. "It requires 100 percent, complete focus." If for one moment you waver -- if you wonder about missing that party or having that extra slice of pizza -- you are chipping away at your chance to pursue your dreams."
She drives a hard bargain, but it's one her athletes gamely accept. After all, as a woman who by all accounts shouldn't be here today, Kearney knows a thing or two about the relentless pursuit of the biggest challenge of all: life.