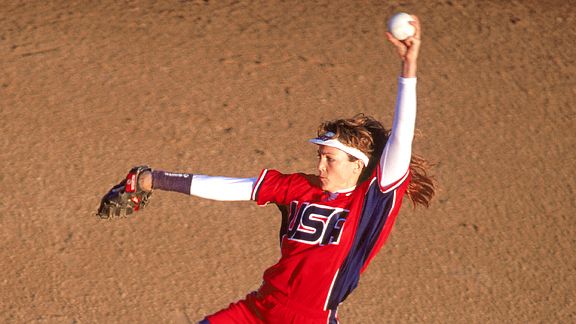 Donald Miralle/Getty Images
In the Pro's Questionnaire, our favorite sports figures take an abridged version of the most famous personality test, the Proust Questionnaire. Two-time Olympic softball gold medalist and ASA Hall of Famer Michele Smith is up. She talks about her admiration for Abraham Lincoln, her fear of being average and her passion for cycling.
Your main fault:
Michele Smith: Being too competitive at times and too much of a perfectionist. It's a blessing and a curse.
Your idea of happiness:
MS: Helping someone else become better and making a difference.
Your idea of misery:
MS: Being made to sit still. Or being non-productive.
If not yourself, who would you want to be:
MS: Probably someone who's made a profound difference to the world, like Gandhi or Mother Teresa, someone who's pulled out the goodness in humans.
Your favorite food/drink:
MS: Filet mignon. Beef tenderloin. I love my protein. To drink, I'd have a nice glass of red wine with that filet. Or water.
Hero/heroine you admire most:
MS: I've always admired Abraham Lincoln, because of all the great things he did and all the hard things he did, too. He made the hard decisions. He didn't do what was popular. He did what was right. It changed the course of our country.
What you hate most:
MS: Negative people who are constantly demeaning or tearing other people down. People who are overly critical. The only way they feel good about themselves is to rip other people apart.
The natural talent you'd like to be gifted with:
MS: I wish I could sing.
Your greatest fear:
MS: Not making a difference. Just being average. Blending in. I feel like we're all here for a short time, so we should do something great with the time we have.
Your greatest extravagance:
MS: My bikes. I have some nice ones. I have a road bike that retails for about $12,000 and I have a time trial bike that would be about a $10,000 bike. I spend a lot of time on them, so therefore I can justify having them.
Your most treasured possession:
MS: Probably my gold medals.
Your present state of mind:
MS: Content, but hopeful that people continue to reach out to one another. There are so many selfish people in the world that it'd be kind of nice for people to want to connect and help each other.