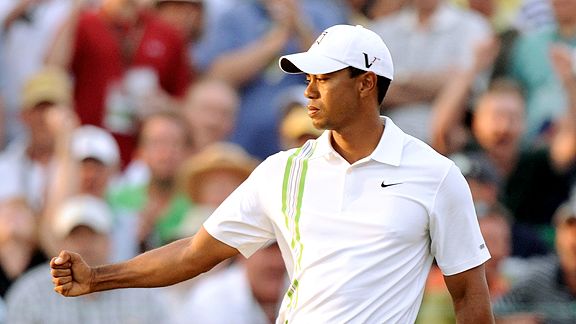 Harry How/Getty ImagesWoods hasn't won a tournament since the Thanksgiving 2009 accident; nevertheless, he's picking up new product endorsements.
Of all the projectiles ever heaved at an athlete or celebrity, the one tossed toward Tiger Woods on Sunday during the final round of the Frys.com Open in San Martin, Calif., is hard not to laugh at. A man ran toward the green on the seventh hole at CordeValle and threw a hot dog at Woods as he prepared to putt. (The fan was later arrested.)
Woods was not hit by the wienie. And there was no immediate explanation for why he was targeted in this comical "attack." But you had to wonder if the fan was reacting to Woods' serial adultery. Remember when Woods was the punch line for late-night talk show hosts after his pseudo car accident in November 2009 led to revelations of rampant womanizing?
Nobody likes being lied to -- not a wife, not an adoring public, and not corporate sponsors who had bought into the fantasy of Woods' carefully projected image.
Uh, make that an ex-wife. The revelations cost Woods his marriage, his reputation and millions in endorsements.
But at last forgiveness apparently has come for Woods. Nearly two years after the crash, Rolex has signed Woods to an endorsement deal and his agent, Mark Steinberg, told The Associated Press there are more sponsors to come.
Can someone please explain why?
It's not as if Woods is a dominant golfer anymore. He hasn't won a tournament since before the accident. His game floundered and injuries followed, with Woods missing most of this season as his world ranking plummeted. He is currently 117th on the PGA Tour money list.
Woods barely made the cut at last weekend's Frys.com Open and finished tied for 30th in a weak field. The excuse: Now that he's playing again, it's going to take time for Woods' game to come back.
One or two endorsements don't mean Woods has made it back as a pitchman, either. Nor is he likely to be hauling in the $100 million or so he reportedly made annually back in his heyday. Right now, Woods might be a bargain to sign while his game is down. Better to hook up now, so to speak, than wait for it to cost more later if his game does eventually come back and he challenges Jack Nicklaus' record of 18 major championships.
But what makes Woods suddenly a credible spokesman, no matter how he plays? Because fans still come to watch him play? True, Woods reportedly gave a huge boost to attendance at CordeValle. True, there's still an air of greatness about him. He's still worth watching.
Here's the thing, though: Just because we want to watch, doesn't mean we want to buy. Hey, we all watched the Super Bowl, too, despite the presence of Steelers quarterback Ben Roethlisberger (or maybe some of us watched just to root against him). Roethlisberger, you'll recall, was accused of sexual assault not once, but twice. Although he was not charged in either case, the NFL was sufficiently disgusted with Roethlisberger's behavior to suspend him for four games last season. For the NFL, that's something.
And we'll watch Philadelphia Eagles quarterback Michael Vick, too, even though for some he'll always be that despicably cruel guy who tortured and killed dogs. We would probably watch Brett Favre, if any NFL team was fool enough to give him another contract. But some of us will always see Favre as the creep who was fined by the NFL for failing to be forthright about accusations he sexted lurid pictures of himself to a woman who wasn't interested in him or his piddling body parts.
So here's a message to sponsors that want to associate with Woods or Roethlisberger, Vick, Favre and all the other athletes or celebrities who would use, abuse, hurt or otherwise diminish women or defenseless animals: Watching athletes compete is not the same as trusting or approving or even liking them. Watching -- not the same as buying.
And any company that wants to slap a logo on one of these athletes is announcing to women -- and anyone else who believes behavior matters, regardless of talent -- that it doesn't care if those athletes have probably offended millions with their antics.
A lot of us are never going to buy a watch endorsed by Woods, jeans endorsed by Favre, or shoes endorsed by Vick -- precisely because of those deals.
Even if some of us forgive, we won't ever forget.