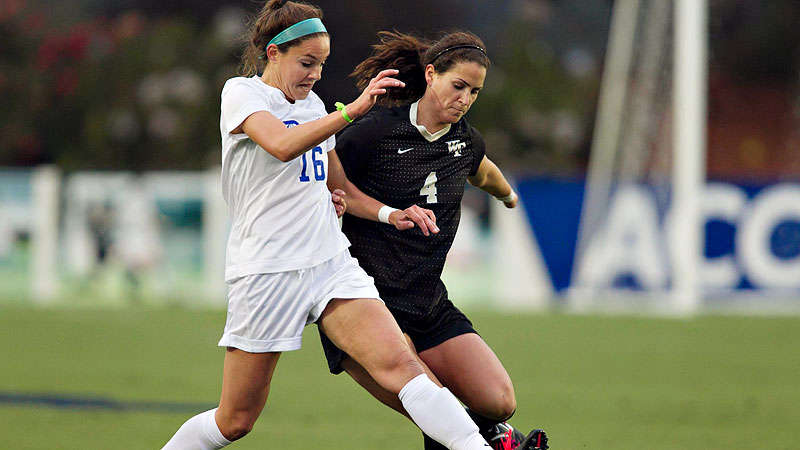 Jon Gardiner/Duke PhotographyBrandi Chastain thinks both Duke and Wake Forest will advance to the NCAA final four.
Throughout this year's NCAA women's soccer championships, espnW will be going "Inside the Game" with former NCAA soccer, World Cup and Olympics star Brandi Chastain. Chastain is a volunteer assistant coach at her alma mater, Santa Clara University, where she led the Broncos to semifinal appearances in 1989 and 1990.
The two-time World Cup and Olympic champion serves as an Advisory Board member for the Capital One Cup, a program that recognizes the top men's and women's Division I athletic program across 20 women's sports and 19 men's sports, including soccer. The winner of the Women's College Cup (and Men's College Cup) will earn 60 points toward the Capital One Cup.
espnW: All four No. 1 seeds are still alive, but several No. 2 and No. 3 seeds, including Florida, Texas A&M and North Carolina, have been eliminated. What do you think has been the biggest surprise of the tournament so far?
Brandi Chastain: I would have to say Long Beach State. They are not a team that is on anybody's radar for the most part in terms of national rankings. … They are a quality team. It is not a university that gets a lot of attention from football or basketball, and so I think they kind of fly a little bit low under the radar, and I think they are showing that they have a good squad, that they are quality players and they play a nice brand of soccer. So for them to be playing Duke at this stage is, I think everybody would say, wow, pretty impressive. I would also say [Central Florida] has surprised.
espnW: The NCAA tournament has been a springboard for national exposure and future national team success. Who has been the breakout player of the tournament so far?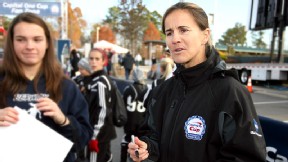 Andy Mead/Icon SMIBrandi Chastain brings a champion's perspective to coaching.
BC: I have to look at Lindsay Taylor for Stanford. She scored a wonderful free kick that caught [Boston College All-American goalkeeper Jillian Mastroianni] baffled, and I think she is just a talented player. She has got great composure, she is a competitor. She is not the kind of player that is emotionally up and down, she is pretty consistent and she is exciting. I think that is the kind of player that will be fun to watch. They also have a freshman -- Chioma Obogagu -- from Texas, and she is exciting for a young player. I think that she will be someone to watch as they play at Oklahoma State on Friday. I am looking forward to that with great anticipation, because I enjoy soccer number one, but I think it will be a battle and we will see if these players that I am speaking of will step up.
espnW: Let's talk more about the Oklahoma State-Stanford quarterfinal match. What are you most looking forward to in that game?/
BC:I have watched Oklahoma State a few times on TV, and what I see is a team that is determined to impress themselves upon the other teams, and most teams do not get a chance to do that to Stanford because they hold the ball so well. … How does Oklahoma State come out in the game? Are they going to try and press Stanford from the get-go or are they going to sit back? Stanford is a team that can be patient, they do not have to score goals right away to win games, and I think they have done that throughout the season and that is now benefiting them in the tournament.
espnW: Did any other quarterfinal matchups catch your eye, and why?
BC: I am interested in the Florida State-Virginia game because those are two teams that come from the same conference, [the ACC], so they have history. Sometimes the psychology is the most interesting component at this time. … Florida State has been, I think, a little more dominant lately, so I would probably lean in this game toward [them]. But it is going to be a battle, because they know each other so well.
espnW: What are the most significant changes you've seen in women's soccer at the collegiate level since your playing days?
BC: I have to say it's the strength of the players themselves. The overall physical nature of the game has improved -- or it has just become more a part of the game. Technically the players are getting better, although sometimes I get frustrated with things that I see as [deficiencies] in women's soccer: the overall heading ability, the overall ability to play a long driven ball sometimes, making choices under pressure, what kind of [foot] surface to pass with. So there are still some things that I think are a little bit deficient, [though] they are coming along, but I think the athleticism and the physical nature of the game has surely improved.
espnW: Now that we're down to the final eight, how about a prediction for which teams we'll see in the College Cup?
BC: I do not do this, but for you today, I will make a guess. I am going to choose Stanford, Florida State, Duke and Wake Forest. This is not as educated as I like to be, because I do not get to see all the teams. I have never seen Wake Forest play. I have not seen UCF play this year, Long Beach I have not seen either.
And put an asterisk after my predictions and say, I was forced under duress to make choices!