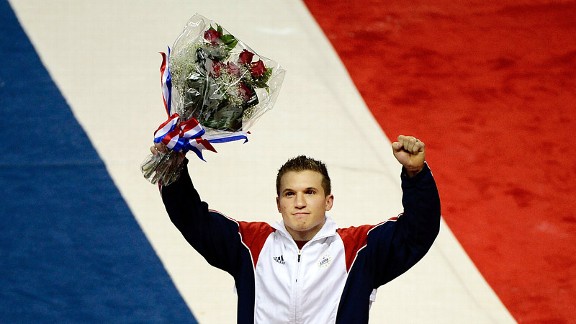 Ronald Martinez/Getty ImagesJonathan Horton, 26, is the 'old guy' on the Olympic team this year. He's hoping he can help the ultra-talented gymnastics squad win gold.
It may sound funny, but I'm not training that hard right now. With less than two weeks to go before the Olympics begin, my teammates and I are trying to keep our minds relaxed, our bodies feeling good and our strength levels up. So we're focusing on mental prep like visualization, some strength training, and rehabbing any injuries that are bothering us. We've made it through the selection process and qualified for the team, so one of the hardest parts is over. I've been preparing for the past four years and there isn't that much more that needs to be done in the gym every day.
That's not to say my teammates John Orozco, Danell Leyva, Sam Mikulak, Jake Dalton and I aren't amped up beyond belief. I really do believe that this is one of the best -- if not the best -- U.S. men's gymnastics teams we've put together since the American men won team gold at the 1984 Olympics in Los Angeles, and I'm thrilled and blessed to be a part of it.
This team has the talent. We'll be tested to see what we can do against our toughest competitors -- Japan, China, Great Britain, Germany and Ukraine -- and we'll see whether we have the same spirit as the 2008 team, which I was fortunate to be a part of. In Beijing we were sixth in qualifying and came back to win the bronze medal in team finals. It was all heart that got us there that day in China.
This year we have the routines, the difficulty levels and the ability to execute. It's really going to be about how much passion we have out there on the competitive floor.
During the past four years, I've gone from being one of the younger guys on the team to fulfilling the old man leadership role. I'm the oldest on this Olympic team by six years, and the only one who has been to the Olympics before. And while I do feel I've matured quite a lot as a person and a gymnast during the past four years, I'm still the same competitor: I still have the same mindset and go into every meet in the same way I did four years ago. The difference is, I'm far calmer now, because I know what to expect.
If I could go back in time and visit myself in 2008, I would tell myself to calm down. Now that I look back on it, I can see that I was a bit of a wild competitor: I either had an absolutely phenomenal competition or I would fall to pieces. I got so emotionally involved in what I was doing -- I was on such a high every time I competed -- and I think it was because I didn't know how to embrace my nerves and control them properly.
I still get just as nervous, but I'm able to channel those nerves into good performances. For instance, last month I made a couple of mistakes at nationals and Olympic trials. In the past I would have freaked out and maybe made more mistakes because of it, but now I can keep myself under control, and I can go and have a great routine on the next event. I can get myself to move on and re-focus without letting the mistake ruin my meet.
This year is also different because I'm not ranked first or second on my own team going into the Games. I still feel I can contribute heavily, though -- and I feel that if I have a great day in Olympic prelims I can still compete for a spot in the all-around and a couple of event finals. But my No. 1 goal is to have the best competition of my entire life in the team final.
As long as we all fight to the end, as long as all five of us have given it everything we possibly have (even if we make a mistake or two) and don't hold back at all, I know that I can be happy. I would absolutely love to be able to call myself an Olympic champion with my team, but I'll be happy if we can just go out there and be ourselves, soak up the moment and have a blast.