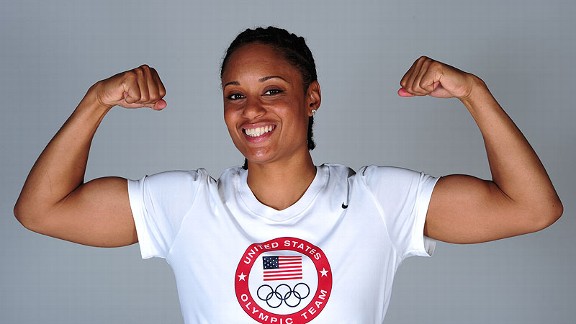 Harry How/Getty Images for USOCFighting spirit: Queen Underwood kept the faith, and now she's on her way to London, where women's boxing will make its Olympic debut.
Earlier this week, American boxer Queen Underwood learned she had been awarded an Olympic berth in the women's lightweight division. Here is her account of that life-changing phone call and the month that led up to it.
Monday was the happiest day of my life.
That's the day I got the news I've been hoping for since 2009, when I found out women's boxing would be in the Olympics: I'm going to London.
It was a different story a month ago, when I was in China trying to clinch my Olympic spot at the world championships. I needed to beat Ingrid Egner, a boxer from Norway, in the preliminary round if I was going to stay on track for an Olympic berth. But I got caught totally off-guard. My coaches had told me what to look out for and what to do against her, but I should've spent more time reviewing the night before. I wasn't prepared. And then on the day of the fight, I felt off. I could tell in my warm-up that I just didn't feel like myself.
Once the fight against Ingrid started, it took me a while to get adjusted. I finally woke up at the start of the third round, but I was already down by so much. And I tried to go all-out in the last round, but it wasn't enough to make up the deficit I had at that point. I still thought there might be a possibility I won the fight, but when the referee didn't raise my hand, it was the worst feeling. Tragic.
I remember walking that long walk after you lose, and everybody's looking at you. My teammates came up to me and said, "You still have a chance, you still have a chance." So I knew making the Olympics was still a possibility. But I had really wanted to get it done at the worlds. And to see my teammates, Marlen Esparza and Claressa Shields, making the team there themselves -- I just felt left out. That was a looong flight home from China.
I came back home to Seattle. I had some personal things to take care of. I wanted to see King, my dog, and I didn't know if I should move on, as far as finding a job, or just sit around and wait. I felt there was still a chance I could make the team, but I was stressed out, and it was a very depressing moment for me. I feel God has his own way and his own plan for how things are going to work out for me, so I tried to have faith. But not being part of the continuing momentum toward the Olympics was hard for me.
[+] Enlarge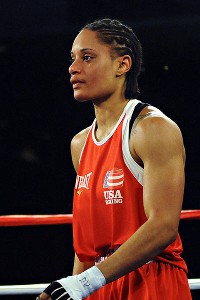 James Snook/US PresswireWhat has lightweight boxer Queen Underwood learned? "Work hard from start to finish. Don't wait 'til that third round."
I started jogging here and there to keep active, but it was hard. I don't run with music, so sometimes when I was running, I'd be thinking, am I doing this for nothing?
I didn't get all crazy with food, so I didn't gain any weight. But as far as bag training and conditioning, it takes only four days to fall out of shape. And the kind of training I was going through in Colorado Springs, Colo., as I prepared for worlds was a lot different from what I was doing at home after worlds. I definitely lost some fitness as I waited to hear if there would be a spot for me.
I thought I was going to get the news from USA Boxing on Friday. That didn't happen, and so I had to wait a couple of more days, which only stressed me out more. Then on Monday morning, they told me I'd get a phone call, and I just said, "I don't want the call to come. I don't want to hear it." The documentary crew that has been filming me came to wait with me for the call, and every minute closer, I felt more anxious. I was so nervous and shaky and nauseous -- it was like I was about to fight. Except this was something out of my control.
By the time Anthony Bartkowski, the executive director of USA Boxing, called, I couldn't even talk. I answered the phone, and then I told him, "Hold on, you're going to have to give me a minute." I tried to compose myself, and then I got back on the phone, feeling kind of embarrassed, and said, "OK, I'm here."
He started out with, "Well, first of all, we'd like to thank you, Queen, for working hard and for your patience ..."
I started praying, "Please don't let there be a 'but.' I don't want to hear him say 'but.'"
There was no but.
"Congratulations," he said. "We're happy to welcome you onto the 2012 Olympic team."
I just grabbed my face and started bawling. I'm an Olympian. This is the kind of news you don't get every day. When you win or lose a fight, it doesn't feel that momentous. Even when I lost in China, the whole event felt kind of ... quiet. But when I heard those words from Anthony, all the emotions just poured out of me. I couldn't help it.
The next few hours were a blur of congratulatory phone calls and texts and emails. I was answering the phone, scheduling interviews, and didn't really have a chance to reflect, quietly, on what had happened. It still felt so new. It was hard to realize I am an Olympian.
One thing that helped it sink in a little bit was a phone call from Marlen, who was already on the team. She told me to sign my name on something and write "2012 Olympian" underneath it. "Do it, Queen," she told me. "It's cool." I did, and that's when I started to get the realization this is really happening.
Next, I head to Colorado Springs for a pre-Olympic training camp, which starts June 27. But as far as I'm concerned, my Olympic preparations began the second I hung up that phone. Boxing all starts with your head. I have to get rid of all the negative from China, the drawn-out waiting period that followed worlds and just erase all of it.
I knew I needed a second chance. I needed for people to recognize my hard work and dedication and my skill in the sport. I'm just really looking forward to preparing to win that gold medal in London and giving it my all. After that last loss in China, I was wondering if I did enough. I know that the next time I'm in the ring, it's going to feel a lot different. I'm not going to have to wonder if I did enough to get ready.
I'm focused. I just needed to hear those words -- "you're an Olympian." That's all it took. That was what I wanted to hear.