[+] Enlarge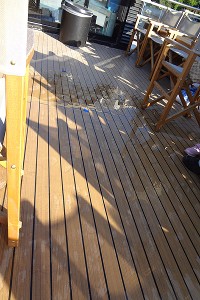 Courtesy of Joanne GerstnerThe remnants of the water balloon attack ...
PARIS -- This is the lull before the French Open starts Sunday, so I decided to make the most of my small bits of free time to see some of Paris.
I am lucky to have visited this beautiful place a few times before, and one of my favorite things to do is the scenic tourist boat ride on the river Seine. It was warm Friday evening, well into the 80s, which made being on the water a refreshing experience.
We were approaching one of the bridges by the Notre Dame cathedral when I realized something odd was happening above us. (There are tourists and locals on every bridge who are sightseeing or passing the time by watching the scene, and some wave to the passengers on passing boats. When they did that today, we waved back.) This approaching bridge, however, had four teen boys, raising their arms to aim water balloons at us. One by one, the balloons were thrown down at us.
BAM! BAM! BAM! BAM!
Each balloon slammed onto the top wooden deck of the small boat, releasing a small torrent of cold water. I was lucky; I was just hit on my feet and lower legs by the splash. Some other tourists took a direct hit and were soaked. We passed under the bridge and looked up when we got to the other side to see what had happened. All four teens were standing on the side, waving to us and giving the thumbs-up.
I thought it was pretty funny.